If you're thinking about attending a coding bootcamp, it's critical that you do your research before taking the plunge.
After all, you may be spending up to $30,000 (and sometimes more!) to attend one.
While there are certainly reputable bootcamps out there, there are also many low-quality ones. Some are straight up rip-offs.
Either way, getting educated BEFORE you sign up for a coding bootcamp is the best way to avoid getting ripped off, and helps ensure your bootcamp experience is a good one.
Here is a list of questions to ask during your meeting with the bootcamp admissions rep.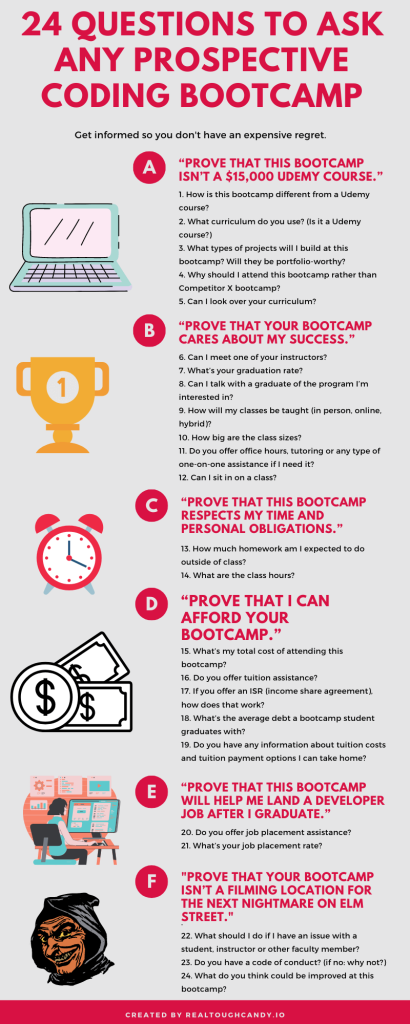 1. How is this bootcamp different from a Udemy course?
2. What curriculum do you use? (Is it a Udemy course?)
3. What types of projects will I build at this bootcamp? Will they be portfolio-worthy?
4. Why should I attend this bootcamp rather than Competitor X bootcamp?
5. Can I look over your curriculum?
6. Can I meet one of your instructors?
7. What's your graduation rate?
8. Can I talk with a graduate of the program I'm interested in?
9. How will my classes be taught (in person, online, hybrid)?
10. How big are the class sizes?
11. Do you offer office hours, tutoring or any type of one-on-one assistance if I need it?
12. Can I sit in on a class?
13. How much homework am I expected to do outside of class?
14. What are the class hours?
15. What's my total cost of attending this bootcamp?
16. Do you offer tuition assistance?
17. If you offer an ISR (income share agreement), how does that work?
18. What's the average debt a bootcamp student graduates with?
19. Do you have any information about tuition costs and tuition payment options I can take home?
20. Do you offer job placement assistance?
21. What's your job placement rate?
22. What should I do if I have an issue with a student, instructor or other faculty member?
23. Do you have a code of conduct? (if no: why not?)
24. What do you think could be improved at this bootcamp?