It's hard to know what the best gifts for programmers are. Especially if you're not one!
There are so many things to consider:
❓ Are they beginners, or have they been programming for years?
❓ Are they preparing to interview for a job?
❓ Or are they already work for a big company?
Whether they just want to have fun or are ready to make a life change, we have gifts for every type of programmer.
Being a computer programmer isn't easy.
But whether it's a small toy, game or a new computer, it's nice to know someone is thinking of you.
So we put together this ultimate list of gifts for programmers.
Also, keep your eye out for the gifts we really like:
🍬 = Candy's recommended picks
This post contains affiliate links. I may receive compensation if you buy something. Read my disclosure for more details.
🎁 LAPTOP COMPUTERS
Computers are one of the best gifts for programmers.
But when choosing a laptop, you want to make sure the programmer in your life:
can see what they're working on
will have plenty of memory for fast computing
have enough storage space to hold all their projects
As a result, we recommend one with at least:
💻 13.3″ screen 🖥️ 8GB RAM 📀 256GB SSD
We've selected the computers below based on this criteria.
---
The Lenovo ThinkPad E595 is perfectly suitable for programmers just starting out. There's enough memory and storage for smaller projects.
And with minimal features, it lets programmers focus on what's most important: programming.
The Lenovo IdeaPad L340 is the best gift for programmers working on multiple or bigger projects. It's got twice the storage of the Lenovo ThinkPad E595.
And it's another no-frills laptop. So that's ideal for programmers who don't need the distractions.
Some of us programmers like coding in style. Or love gaming on our downtime.
Similar in price and specs to the Lenovo IdeaPad L340, the MSI GF63 Thin is a quality multi-use computer.
The MSI GP65 Leopard is for programmers who like to work hard… And play hard.
It's got ample memory for speed. Plus it stores plenty of projects without a problem.
This is one of the best gifts for programmers who also love gaming.
The MacBook Air is a sleek machine. And it's cost-effective for the quality.
This is a great gift when looking for a reliable, budget-friendly laptop for programmers.
If you want to get the programmer in your life the best of the best, consider investing in a MacBook Pro.
Whether they're working on a major coding project or need to spend hours in a video editor, this laptop will get the job done.
And it will be a reliable laptop for years to come.
This is unquestionably one of the best gifts for programmers.
🎁 SUBSCRIPTIONS
What better way to shower programmers with gifts than to do it over. And over. And over.
Here we'll look at 2 different subscription services:
🔹 Courses and Platforms 🔹 Hosting Sites
And you can decide if a subscription is the right gift for your programmer.
COURSES AND PLATFORMS
Courses and educational platforms are a popular way for aspiring and advanced programmers to learn.
And without spending thousands on a college degree.
AlgoExpert is the course for programmers preparing for a FAANG-level interview. In other words, software engineers who have their sights set on Google, Facebook and other top-tier tech companies.
It was created by Clément Mihailescu to help himself prepare for a Facebook interview – and passed! So he decided to help other aspiring developers land the job of their dreams.
And its features can't be beat:
🔷 150+ questions asked at actual interviews 🔷 video-based learning
🔷 data structures crash course 🔷 4-pane integrated workspace
🔷 space-time complexity analyses 🔷 certificate of completion
🔷 solutions in 9 programming languages 🔷 interview tips
🔷 coding interview assessment 🔷 behavioral interview prep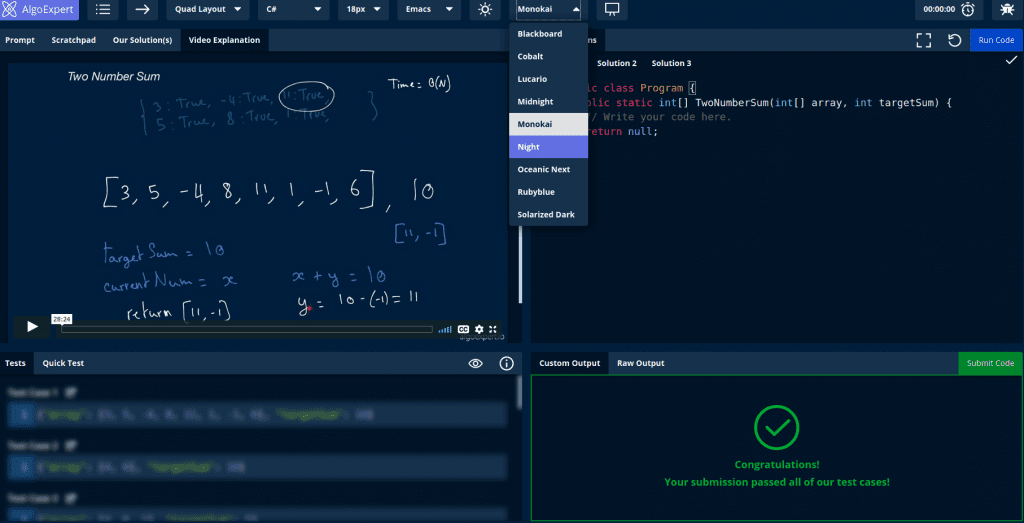 AlgoExpert is one of the best gifts for programmers who want to ace the technical interviews.
💰 Cost: About $99 for an annual subscription
🚨 Bonus: Use code realtoughcandy at checkout and
save 10% on AlgoExpert, SystemsExpert or the bundle. 🚨
Codecademy Pro is an educational platform for new and advanced programmers.
There are currently about 65 courses that support 14 programming languages.
And each text-based course contains interactive lessons, projects and quizzes.
In addition there are skill and career paths, which are courses organized from beginner to advanced. These help programmers develop skills in a specific programming language, building apps or passing interviews.
💰 Cost: About $240 for an annual subscription
Similar to Codecademy Pro, Educative offers individual courses and skill paths. But Educative currently offers over 150 courses. And new courses are added every month.
While text-based, the courses are media-rich with visual examples. And they also contain embedded code editors for programmers to practice what they've learned.
The courses range from newbie-friendly JavaScript topics to FAANG interview preparation.
Educative is one of the best gifts for programmers who like to learn at their own pace.
💰 Cost: About $249 for an annual subscription
SystemsExpert is another video-based course on the AlgoExpert platform. But this advanced course is designed for programmers preparing for their systems design interviews.
With 25 lessons, systems design fundamentals are reviewed. And then there are 10 questions that ask the programmer to design things like:
🔷 Design Netflix 🔷 Design Uber API 🔷 Design Facebook News Feed
And more.
Each prompt contains clarifying questions to ask, a full mock interview and solution walkthrough.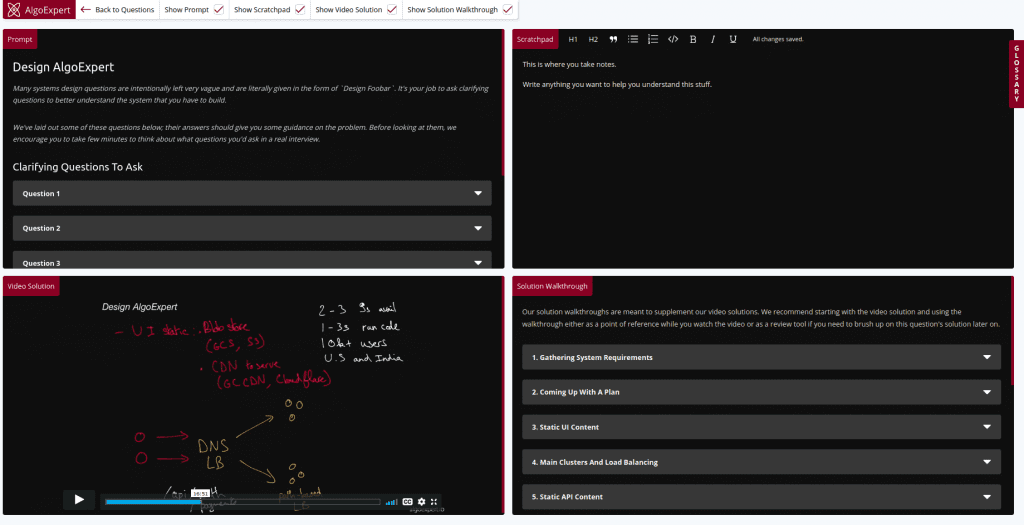 And like AlgoExpert, this is all done in a clean, integrated workspace.
New!
SystemsExpert now has a 50-question quiz and a systems design certificate.
💰 Cost: About $79 for an annual subscription
🚨 Bonus: Use code realtoughcandy at checkout and
save 10% on AlgoExpert, SystemsExpert or the bundle. 🚨
Web Dev Simplified is a platform containing two video-based courses. Each of these courses teach programmers modern web technologies:
Learn React Today – learn React and modern features such as hooks and context
Learn CSS Today – learn modern CSS features and advanced CSS concepts
Courses provide high definition video of:
🔷projects 🔷 tutorials 🔷source code breakdowns 🔷 free updates
And access to their exclusive community.
💰 Cost: About $120 for 2 courses
Zero to Mastery creator Andrei Neagoie is one of the better known names in the industry. He's an instructor with over 200,000 students. And many of them have gone on to work with FAANG companies.
The concept of Zero to Mastery is to teach an absolute beginner:
the fundamentals of a concept
integration of advanced concepts
mastery of a programming language or skill
All courses are maintained and updated regularly.
Plus you get a free copy of Andrei Neagoie's ebook Principles for Programmers.
💰 Cost: About $265 for an annual subscription
🚨 Zero to Mastery coupon code:
Use code FRIENDS10 for 10% OFF! 🚨
HOSTING SITES
Is your programmer ready to push their work to a live website? If so, they need a place to host their files.
And hosting sites are the way to do that.
Hosting sites are one of the bests gifts for programmers because they're cheap. Plus they're necessary for websites to go live.
Namecheap is a shared hosting site which is ideal for low-traffic websites.
They offer low-cost hosting with a variety of security and apps included. Plus they have an expansive glossary which will guide your programmer through definitions and how-tos.
And with their 24/7 live chat, Namecheap has the best customer service we've seen.
💰 Cost: Under $25/month
Hostinger is another shared hosting site. And it's similar to Namecheap in terms of security, apps and cost.
💰 Cost: Under $25/month
🚨 BONUS: Use coupon code CANDY at checkout to get 15% off ANY hosting plan on Hostinger. 🚨
Cloudways is a managed cloud server. That means they're the go-to for communication between programmers and the cloud.
It's unique because it allows the programmer to choose which cloud service they prefer:
Digital Ocean
Linode
Vultr
AWS
Google Cloud
And from there, Cloudways takes care of the rest.
Cloudways is ideal hosting for larger, scalable projects using multiple machines.
💰 Cost: Under $25/month
Digital Ocean is another cloud service, but with some unique features.
With Digital Ocean, you can:
🔷 deploy with Kubernetes 🔷 scale with Droplets
🔷 monitor apps and metrics with real-time alerts
And much more.
Digital Ocean is ideal for programmers who are deploying sites on a large scale.
💰 Cost: Under $25/month
🎁 BOOKS
Programmers are always learning. And books are a great way to learn new programming languages, frameworks and concepts.
Books are the best gifts for programmers because they can bring them anywhere.
If you know a distracted programmer, get them this book.
While it's not a book about programming, Deep Work offers valuable insight for programmers.
It contains tips on how to enter a state of deep work. This will increase productivity and drown out distractions.
💰 Cost: Under $25
Is the programmer in your life ready to start using Linux?
The Linux Command Line covers everything from terminal keystrokes to writing command in Bash.
In addition to learning practical skills, programmers will also learn the philosophy behind them.
💰 Cost: Under $25
How to Get a Job in Web Development is an Amazon #1 bestseller. And for good reason.
This book teaches programmers how to:
🔶 organize and prioritize applications
🔶 leverage social media
🔶 strategically apply to jobs
🔶 craft a resume, cover letter, portfolio and GitHub page
And much, much more.
This book is one of the best gifts for programmers who are preparing to apply for web development jobs.
💰 Cost: Under $25
Real Tough Software is the memoir by RTC.
As an educator, creator and business owner in the tech industry, she talks about events that shaped her career.
And that includes everything from creating RESTful APIs to being a senior developer at a dysfunctional company.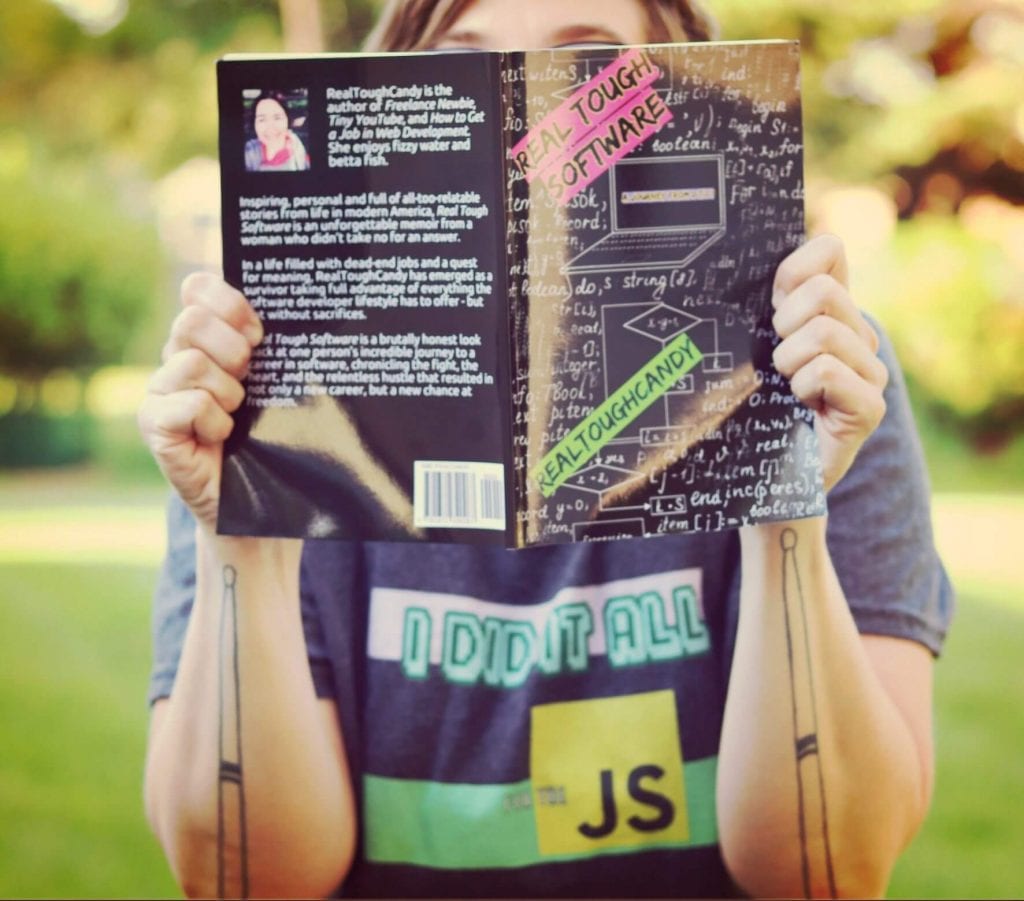 We all get in ruts. And this is one of the best gifts for programmers who need a little inspiration.
💰 Cost: Under $25
You may have heard the programmer in your life talking about the You Don't Know JS series by Kyle Simpson. But because they're out of print, they're getting harder to find.
Not to worry. Rescripting his original books, Kyle has released a new series: You Don't know JS Yet.
In this multi-book series, programmers will deeply learn the fundamentals of JavaScript.
💰 Cost: Under $25
Cracking the Coding Interview is a massive book containing over 600 pages of:
🔹189 interview questions 🔹hints 🔹solution walkthroughs
🔹extensive Big O, data structures and algorithm coverage
🔹 behavioral questions 🔹interview tips
And much more.
Note: Most solutions are presented in the programming language Java. If the programmer in your life does not know Java, this book may not be helpful.
Cracking the Coding Interview is one of the best books for programmers who are preparing for their FAANG interview. Click here to read our full review.
💰 Cost: $25-50
JavaScript and jQuery is an excellent book for beginners. And with over 600 pages, it uses ample diagrams, infographics and photographs.
Programmers will learn:
🔹how to trigger code 🔹how to use AJAX 🔹how to use APIs
🔹the DOM 🔹how JavaScript changes HTML pages
And much more.
💰 Cost: $25-50
If you know a programmer that wants to learn JavaScript, this book is a great gift.
A Smarter Way to Learn JavaScript uses a simple but effective method of learning:
Read a 10-minute chapter on a concept
Take a 20-question interactive quiz online
Short bursts of learning are an ideal way to master programming. This way if you don't understand a concept, you can immediately see the problem areas. And improve upon them before moving on.
Don't forget to check out the other books in the series: A Smarter Way to Learn HTML & CSS, A Smarter Way to Learn Python and A Smarter Way to Learn jQuery.
💰 Cost: Under $25
Eloquent JavaScript teaches programmers how to write beautiful, effective JavaScript.
There are plenty of code examples to teach control structures, functions and data structures.
And it contains multiple projects for programmers to apply their knowledge.
💰 Cost: $25-50
🎁 ERGONOMICS
Ergonomics is the study of people's efficiency in their working environment. Programmers can't get much done if they have back pain or carpal tunnel syndrome.
Fortunately, the items in this section will leave programmers coding in comfort.
Programmers like being comfortable. And sometimes even stylish.
This is not your typical computer chair.
It comes equipped with:
♦️Bluetooth speakers
♦️foot rest
♦️170-degree recline
♦️head and back pillow rests
This is one of the best gifts for programmers who spend countless hours in front their computer.
💰 Cost: $100-250
Developers stand up!
Programmers need to get up and moving. Even just a few minutes here and there has health benefits.
And for those of us who have to stay chained to our desks for programming, a VIVO Standing Desk is the perfect solution.
Just put this desk on an existing table or counter. And raise it up to 36″ to reach a comfortable level.
Then, get to work.
This standing desk is one of the best gifts for programmers who have a hard time staying put for hours on end.
💰 Cost: $100-250
Programmers work long hours, often late into the night.
And a backlit keyboard will save hours for the programmer in your life.
No more hunting and pecking will make you a hero.
💰 Cost: $25-50
Why does a developer need a programmable mouse?
Two words:
That means snippets of code that are used frequently throughout a project.
Instead of typing out the code a bajillion times, programmers can assign a code snippet to one of the 18 programmable buttons.
And then simply hit one button every time they need to plug that code.
This is one of the best gifts for programmers who are stuck in a boilerplate nightmare.
💰 Cost: $25-50
🎁 ACCESSORIES
Accessories doesn't just mean kaboodles for teen girls. Programmers like them, too.
Sennheiser HD280PRO headphones are one of the best gifts for programmers.
They're ergonomic. And foldable.
Then there's the 10′ cord which is nice when a programmer needs to step away from their desk.
Plus they're comfortable. They're padded in all the right places for hours of comfortable wear.
💰 Cost: $50-100
Programmers can travel with up to 5TB of storage with this LaCie External Hard Drive.
And that's a lot of storage.
That means they can transport projects, media and other files without the burden of bringing their computer.
💰 Cost: $100-250
With the speed of a solid state drive (SSD), the Corsair 1TB USB Stick has read and write speeds up to 440MB/second.
And it's optimized for USB 3.1, 3.0 and 2.0 for future-proof and backwards compatibility.
Translation: This is one of the best gifts for programmers who like to travel light with compact data.
💰 Cost: $275-300
Whether you need a grocery list or a linked list, any programmer can benefit from a whiteboard.
These come in especially handy if your loved one is preparing for a whiteboard coding interview.
💰 Cost: $25-50
⚠️ Don't forget your dry erase markers and eraser.
The Pomodoro Technique is well known in programming circles:
Work for 25 minutes
Take a 5-minute break
And repeat.
Frequent breaks keep your mind fresh. And it breaks up huge projects into small, manageable chunks.
This timer is an easy way to track time: just set it and forget it.
This is one of the best gifts for programmers who are overwhelmed with deadlines.
💰 Cost: Under $25
Yes, we're serious.
It's not always easy to find a solution when thinking about broken code.
So programmers use a method called Rubber Duck Debugging. They talk out loud to the rubber duck when there's a coding error.
For example, the programmer:
explains and reads the broken code to the duck
has an a-ha! moment and realizes what went wrong
fixes the code
💰 Cost: Under $25
Most programmers love any opportunity to geek out over code.
Especially around family, friends and coworkers.
This mug is a funny programming take on the process of making and drinking coffee.
💰 Cost: Under $25
Do you remember floppy disks?
Mention them to the programmer in your life. And you'll be met with a series of groans. Or wistful eyes yearning for the golden days of programming.
Either way, they'll appreciate these floppy disk coasters.
💰 Cost: Under $25
Programmers love stickers.
They can slap them on computers, water bottles, cars and more.
This pack contains 100 stickers for:
frontend and backend languages
programmers
developers
coders
engineers
hackers
And more.
Stickers are one of the best gifts for programmers.
💰 Cost: Under $25
🎁 TECH APPAREL
Programmers wear clothes too, you know. Here we look at some of the most fashionable gear.
RealToughCandy is a web developer. And she's been helping programmers with courses, books, this blog and her YouTube channel for years.
Plus she has a line of designs that you can get on shirts, phone cases, mugs and much more.
Apparel from CandyScript is one of the best gifts for programmers who like to sport programming gear in style. And it's great for fans of RealToughCandy.
💰 Cost: Under $25
TeePublic has hundreds of shirts for programmers.
All designs are user submitted. So that means a lot of creative people have contributed designs that are:
funny
clever
serious
inside jokes
And more.
The shirts are customizable by color, gender, style and size.
💰 Cost: Under $25
These socks are a great conversation piece at tech meetups and conventions.
Or if the programmer in your life just wants to code in style.
Computer circuit board socks are one of the best gifts for programmers.
💰 Cost: Under $25
Can you read this watch?
Probably not.
But the programmer in your life will gleefully translate these flashing lights into time.
💰 Cost: $25-50
🎁 ENTERTAINMENT
Like the rest of us, programmers like to kick back at the end of the day. And often times that means watching TV, a movie, or reading some comics.
Silicon Valley was created by Mike Judge (Office Space, King of the Hill).
And in this comedy series, it follows introverted geniuses trying to get rich with tech startups.
But with a bunch of zany twists and turns, of course.
💰 Cost: $50-100
This series takes place in the 1980s, at the dawn of the personal computing revolution.
A renegade trio race to build a computer that can alter the future. They reverse-engineer IBM's technology to put their company ahead of the PC race.
💰 Cost: $50-100
Mr. Robot is a psychological thriller about an antisocial cybersecurity engineer.
But at night, he's part of a group of vigilante hackers trying to bring down corporate America.
Mr. Robot is one of the best gifts for programmers.
💰 Cost: $25-50
Hackers is a cyberpunk suspense movie from 1995 starring Angelina Jolie and Matthew Lillard.
The movie trails a group of high school hackers and their conspiracy to extort a corporation.
Classic.
💰 Cost: Under $25
Starring Sandra Bullock, The Net is a thriller about a computer expert whose identity is erased.
As a freelance software analyst, Bullock simply had to debug a game. Or so she thought. She gets caught up in a conspiracy where people start dying… and she's next.
And as with any movie, entertainment is more important than facts. But it's still a fun one to watch.
💰 Cost: Under $25
Secret Coders is a graphic novel series by Gene Luen Yang and Mike Holmes.
And it's geared towards computer enthusiasts.
Three kids solve various mysteries by using their smarts and solving coding challenges.
And they do it all while encountering blockades like meddling classmates and teachers. 😒
💰 Cost: $25-50
🎁 GAMES
While most of these games are geared towards children, don't let that sway you.
These can be a great way to get programmer's wheels turning.
And they're fun for the whole family.
This is a fun one.
You have a character, a portal, a map and some gems. You're assigned a set of moves you're allowed to make to solve the challenge.
So you have to organize your moves to collect the gems and reach the portal.
It's listed as one player, but it's great to have a second set of eyes.
Especially for the harder problems.
💰 Cost: Under $25
This book is a collection of coding challenges such as Snake and Brick Builder.
With illustrated step-by-step instructions, programmers will learn how to build 20 games using the programming language Scratch.
And while this is geared towards kids, we also recommend it for newbie programmers.
💰 Cost: Under $25
Learn artificial intelligence (AI) and computer programming with CoderMindz.
This board game teaches programming concepts like loops, functions, conditionals and algorithms.
💰 Cost: $25-50
Robot Wars is now a board game!
Please the programmer in your life with this coding strategy game written in Java.
It has beginner and more advanced levels.
💰 Cost: Under $25
This is another book of programming projects. There are over 30 projects in the programming language Python.
Your favorite programmer will learn computer programming fundamentals.
From there, they'll create projects like:
chatbots
geometric art
dice games
arcade games
And much more.
💰 Cost: Under $25
🎁 WOMEN IN TECH
Looking for the perfect gift for the female programmer in your life?
Here are some of the best gifts for girls in the tech industry.
Desktop trinkets can save a programmer from MEGO (my eyes glaze over).
This Lego Coder Girl provides a break from the screen.
Plus revitalizes female programmers to keep their eye on the prize.
And keep working hard.
💰 Cost: Under $25
Women in Tech: 20 Trailblazers Share Their Stories is an interview compilation by Vivian Wagner of TechNewsWorld.
Topics covered include:
mentorship
advancing in a company
starting a business
career changes
And much more.
Plus it's apolitical, which is refreshing.
💰 Cost: Under 25
Author Tarah Wheeler interviews successful female programmers in this book.
They talk about:
salary negotiation
tech resumes
how to ace a tech interview
mentorship
And much more.
💰 Cost: Under $25
Women of Color in Tech: A Blueprint for Inspiring and Mentoring the Next Generation of Technology Innovators is written by Susanne Tedrick.
She offers practical advice and inspiring stories from successful women in the programming business.
She covers:
soft skills
public speaking
networking
finding a mentor
overcoming negativity
And beyond.
💰 Cost: Under $25
Ever wonder where the term computer bug came from?
Grace Hopper.
She was a computer programming pioneer. And she was one of the first programmers to work on the Harvard Mark I computer. In addition, she invented one of the first linters.
This book covers her rich history with illustrations, quotes and more.
💰 Cost: Under $25
Tech Deck: Women of STEM is a themed set of playing cards containing 13 tech-savvy women.
Featured in the National Museum of Women in the Arts, these cards are sure to be a stimulating conversation starter at game night.
💰 Cost: Under $25
Programming shirts are great to wear to conventions or tech meetups. Or while spending hours behind the computer coding away.
Available in heather grey, heather blue and pink.
💰 Cost: Under $25
Author Miriam Peskowitz put together this fun book of projects for girls who want to:
code with Scratch
create a digital fortune teller with Python
make smartphone gloves
code a motion sensor
Plus much more.
And programmers will even learn how to build their own computer.
💰 Cost: Under $25
🎁 JUST FOR KIDS
Start 'em off early!
Coding isn't just for adults. This section features fun stuff for the little ones.
Bitsbox is a monthly coding subscription box for kids.
They deliver coding projects right to your door such as making video games, greeting cards and simulations. Plus, the apps work on phones and tablets.
Starting with the basics, a new concept is worked on every month.
Bitsbox includes an adult guide. And they offer email technical support.
💰 Cost: $25-50
The programmer youngster in your life will light up when they see the Ultimate Coding Kit 2.
They'll learn how to program using C++. The kit comes with:
🔹LED light strip 🔹LCD screen 🔹speaker 🔹light
🔹temperature sensors 🔹sound sensors 🔹 buttons
And using reference cards they'll write code for a circuit board that controls all components.
This is one of the best gifts for young programmers who like to work with their hands and see immediate results.
Note: No previous experience is necessary. This item is not compatible with smartphones or tablets.
💰 Cost: $100-250
Coding and Robotics is a story-based game by Thames & Kosmos. And it contains 30 coding lessons covering:
🔹sequences 🔹loops 🔹functions 🔹conditions
🔹events 🔹algorithms 🔹variables
And more.
The lessons become realistic with hands-on model-building exercises such as a mouse moving through a maze to find cheese.
No software, apps or computers are required.
💰 Cost: $50-100
Remote programming is hours of fun with Botley the Coding Robot.
By using a remote programmer, it can:
🔹detect and avoid objects 🔹follow looping commands
🔹follow back-line paths 🔹take on obstacle courses
Plus the activity set includes coding cards, tiles, obstacles and a coding guide.
Botley is completely screen-free.
And that means no phone, tablet or computer required. That's why this is one of the best gifts for programmers.
💰 Cost: $25-50
Learn about binary code, algorithms and pixelations with My First Coding and Computer Science Kit.
The lil' programmer in your life will create binary necklaces, mystery mazes, ancient encryption devices and more.
💰 Cost: $25-50
This book contains 50 games and activities to teach young programmers essential Python skills.
💰 Cost: Under $25
In this story, characters learn how to keep track of ride tokens, calculate a short ride line and more.
And by using if-then-else sequences, they hunt for hidden secret code throughout the park.
💰 Cost: Under $25
Already know your little one wants to be a programmer?
Or has a parent or two in the industry?
This shirt is perfectly cute and funny for the programming tot in your life.
Available in 15 colors in sizes 6mo.-7T.
💰 Cost: Under $25
Baby Loves Coding introduces very basic concepts of sequencing, problem solving and step-by-step thinking.
This book introduces STEM topics in a developmentally appropriate format.
So no, your baby won't be coding after this book.
But down the line… who knows?
💰 Cost: Under $25
This baby onesie is one of the best gifts for programmers with a newborn baby.
With it's code of diaper changing instructions, it's sure to get a few laughs.
Available in yellow, blue and pink.
💰 Cost: Under $25
BEST GIFTS FOR PROGRAMMERS: CONCLUSION
The best gifts for programmers come in all shapes in sizes.
Whether you want to give them the gift of knowledge with an educational course or a laugh with funny trinket, there's something for every programmer.
And they're sure to appreciate whatever it is you decide on.
Up Next: The Big List of 101 Places to Learn to Code for Free