Is BitDegree worth it?
We certainly think so. Born in August of 2017, BitDegree is a newer online education platform. But in that short amount of time, it's amassed over 800 thousand students.
From blockchain to scholarships, there are plenty of features that make BitDegree stand out from other education platforms.
And in today's BitDegree review, we're going to explore why we think it's worth your time.
This post contains affiliate links. I may receive compensation if you buy something. Read my disclosure for more details.
BitDegree Review: At a Glance
Pros
High production standards
Frequent course discounts
Some free courses
Mini-scholarships
Reward-based learning
Gamified learning environment
Cons
No dates on courses
Courses are a la carte, so can get expensive
How does BitDegree compare to other platforms?
| | | | | |
| --- | --- | --- | --- | --- |
| | BitDegree | Udemy | Pluralsight | Coursera |
| Interactive or Video courses | Both | Video | Video | Both |
| Free or paid courses | Both | Both | Paid | Paid |
| Gamified learning | ✅ | ❌ | ❌ | ✅ |
| Blockchain-based | ✅ | ❌ | ❌ | ❌ |
| Certificate | ✅ | ✅ | ✅ | Some |
| Community | ✅ | ❌ | ❌ | ✅ |
| Cost | Per Course | Per Course | Per Month | Per Month |
Ok, so I keep hearing about how BitDegree is blockchain-based. What exactly does that mean?
BitDegree is the first blockchain-powered online education platform ever created.
💡 You earn tokens when you take BitDegree courses. You can also get these tokens by applying for micro-scholarships (we'll get into that a bit later) and connecting with companies through BitDegree.
So for every approved course you take, you get paid with tokens (BDG) you can use to buy more courses. What's more, you can convert your tokens to Ethereum.
Still trying to make sense of it all? Check out this video by BitDegree which explains their blockchain model in detail.
How do I navigate BitDegree?
BitDegree is refreshingly easy to navigate. On the landing page, you'll find a drop-down menu where you can select a category.
Or, if you know what subject you want to study, you can just type it in the search bar.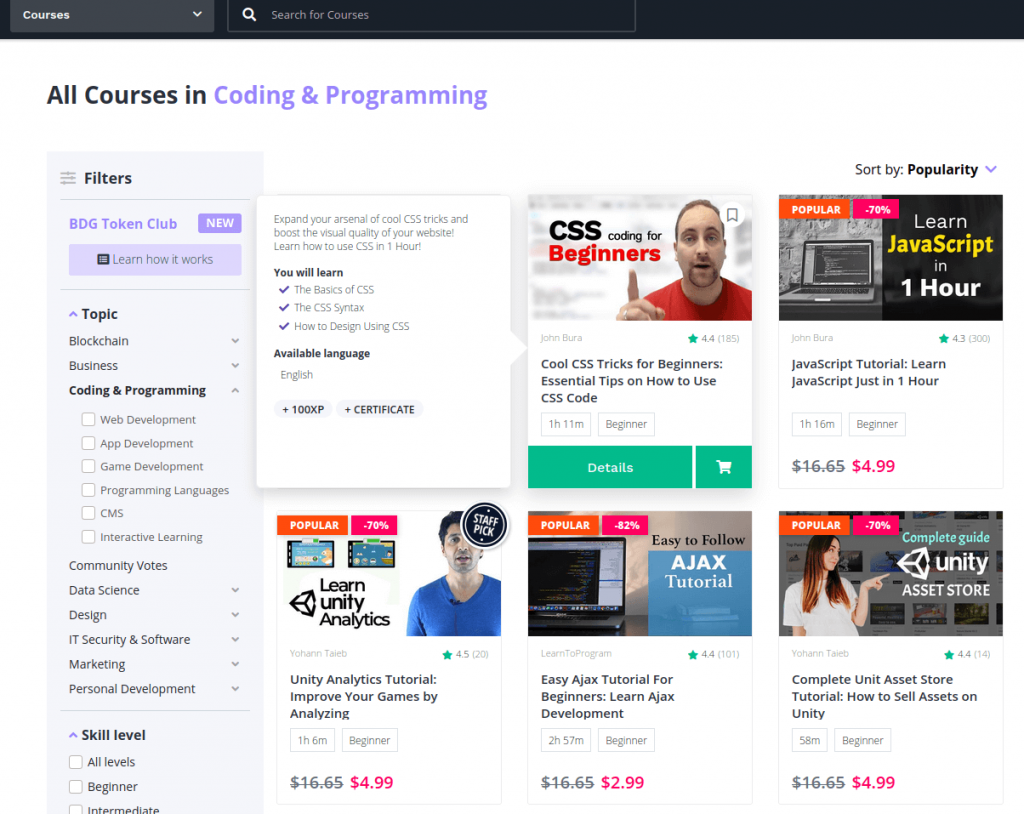 You can also filter by:
What kind of courses does BitDegree offer?
BitDegree offers courses in:
| | |
| --- | --- |
| Blockchain | Business |
| Coding & Programming | Data Science |
| Design | IT Security & Software |
| Marketing | Personal Development |
Each category has subcategories. For example, Coding & Programming offers 6 subcategories:
Web Development
App Development
Game Development
Programming Languages
CMS
Interactive Learning
Are BitDegree courses interactive or video-based?
Both, actually. You'll find that the interactive courses are clearly labeled. In these courses, you'll do everything from coding in the browser to simple exercises to larger projects.
If they aren't labeled, they are video courses.
What does a typical BitDegree learning environment look like?
As we mentioned before, BitDegree has video courses and interactive courses. So why don't we take a peek at both of them?
Total runtime: 1 hour, 24 minutes
💡 In JavaScript Programming for Beginners, you'll learn the fundamentals of JavaScript with a collection of short videos that are typically under 10 minutes.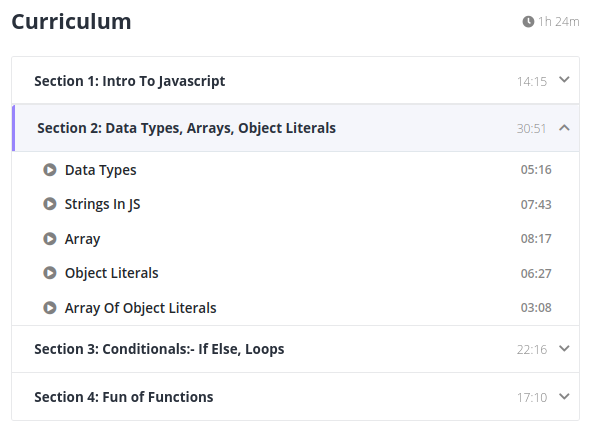 You'll start with a walkthrough of how to install Visual Studio Code, the code editor you'll use for this course.
Then you'll dive into the four sections of JavaScript Programming for Beginners:
Intro to JavaScript
Data Types, Arrays, Object Literals
Conditionals: If Else Loops
Fun of Functions
Each section has a few videos where you'll learn new concepts.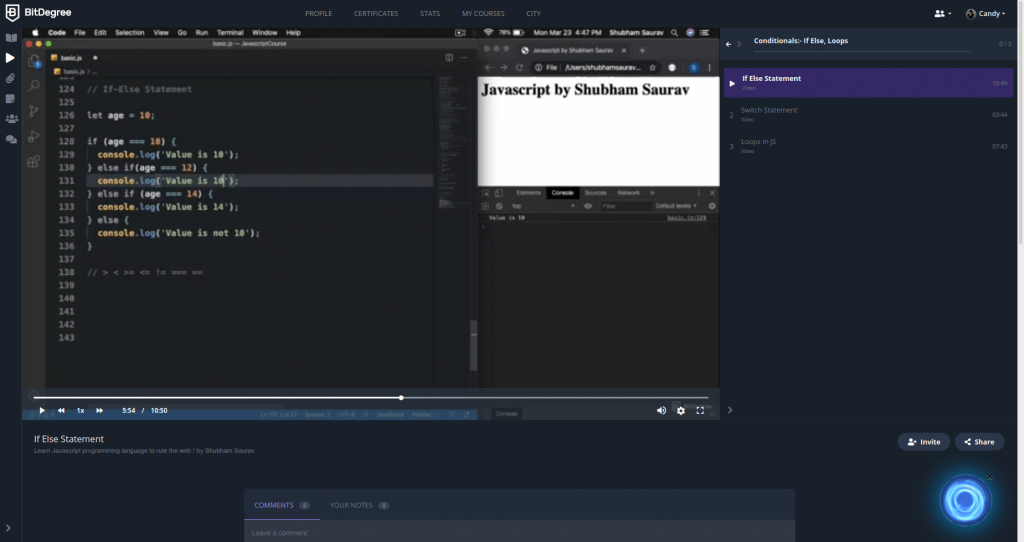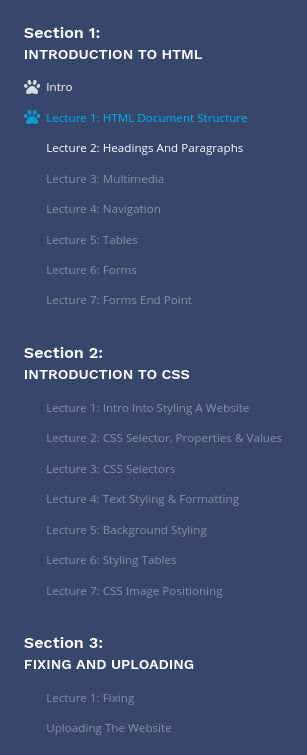 In this course, you'll learn the fundamentals of basic front-end development using HTML and CSS. By the end of the course you'll create a website using your newly acquired HTML and CSS skills.
Because it focuses on the basics, this is a great first course for aspiring web developers.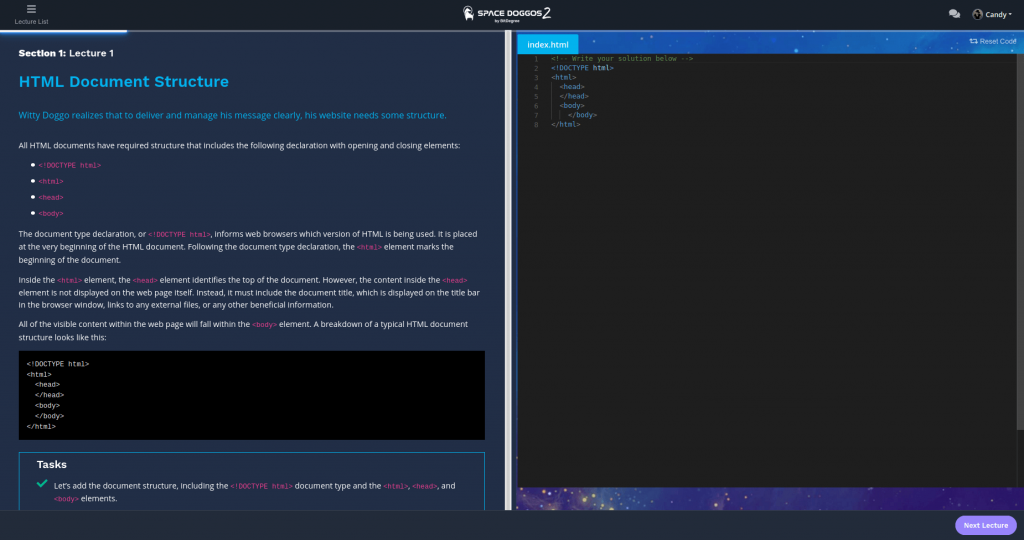 And you'll do it all with a learning companion, Space Doggo: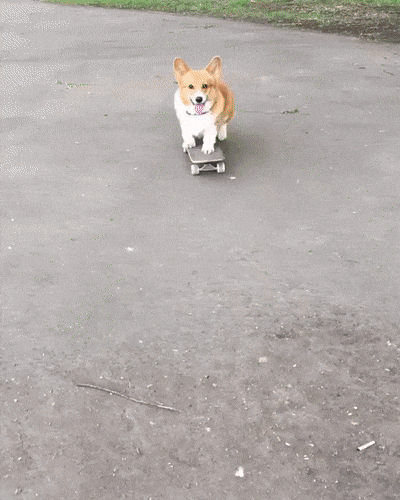 What are the production values like for BitDegree video courses?
BitDegree has pretty high standards when it comes to their video courses. So you'll find that most audio is crisp and clear. In addition, the videos are well-lit which makes it easy to observe the instructors and lessons.
Are the instructors easy to understand?
While the production quality is generally pretty good, some instructors may have thick accents that some may find difficult to understand.
💡 But there's a simple solution: watch and listen to the course preview (most courses have one) so you can decide if that instructor is right for you.
BitDegree review: What are the best courses on BitDegree?
💡 Some of the most popular BitDegree courses include:
💡 Some of our personal favorites include:
Is BitDegree just for beginners?
No. BitDegree has courses for beginner, intermediate and advanced students.
Does BitDegree have learning paths?
Yes, BitDegree has Learning Paths.
As you may already know, a Learning Path is a collection of multiple courses. They start with the most basic courses and build up to more advanced topics.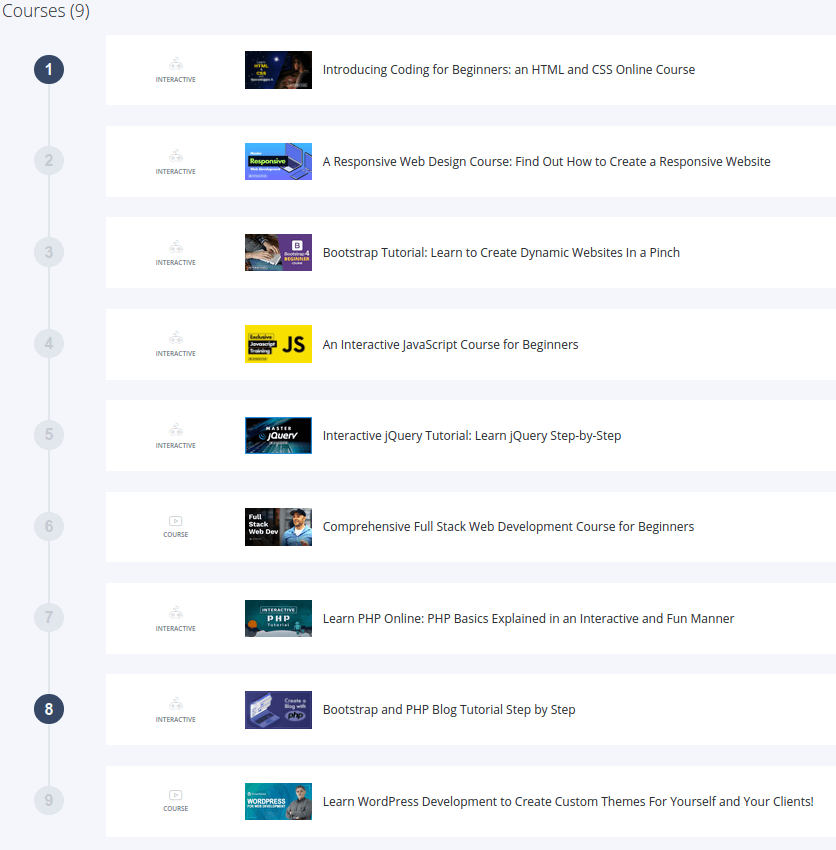 💡 Learning Paths are meant to help you prepare for an entry-level position in a particular career.
BitDegree has 8 Learning Paths where you can learn to become a(n):
Game Developer with Unity
iOS App Developer
Android App Developer
Game Designer
Web Developer
Online Business Master
Digital Marketing Guru
Machine Learning Specialist
Does BitDegree have support?
There are comment sections in the video courses where you can get help.
Does BitDegree have Certificates?
Yes, BitDegree offers Certificates for completed courses.
BitDegree review: How much does BitDegree cost?
💡 Each course is priced individually. And you'll find that a lot of BitDegree's courses are free.
On the other end of the spectrum, you'll find some courses on BitDegree that cost as much as $500.
But be on the lookout: BitDegree always has various courses on sale. So the next deal might be the one you've been waiting for.
For example, the course Comprehensive Ethereum Blockchain Developer is usually $500. But at the time this article was written, it was on sale for only $99.
You'll constantly find deals like this all over the BitDegree platform.
BitDegree review: How can I get a BitDegree micro-scholarship?
There's a 4-step process to get a BitDegree micro-scholarship.
First, you have to fill out your scholarship form. This is where you'll let BitDegree know what course you want to learn. You'll also have to share your personal story.
Next, you have to wait for a sponsor to respond to your application. There are thousands of sponsors who scour the applications and choose based on who they think is the most promising candidate.
Once you're selected, you'll have 3 months to complete the course you're sponsored for.
Finally, you'll collect your blockchain certificate.
In addition to having your course covered with a mini-scholarship, you'll also receive BDG tokens for completing the course. You can then use these tokens to sign up for other courses.
Do I need an Ethereum wallet to use BDG tokens?
Yes, you do need an ETH wallet. That's because that's where your BDG tokens will be stored. And, if you want, you can convert your BDG tokens to Ethereum!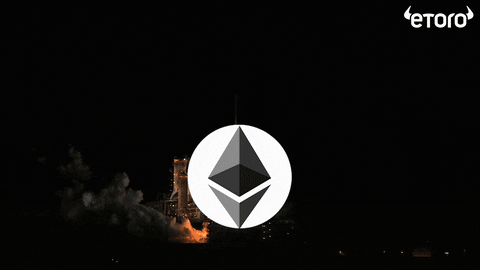 BitDegree Review: Conclusion
In today's BitDegree review, we covered everything from blockchain to scholarships.
If you're looking for a learning environment that's reward-based that leverages the power of the blockchain, we think BitDegree is worth your time.
---
Like our BitDegree review? Check out some other reviews:
---