There's cheap web hosting, and then there's the utterly cheapest web hosting.
If you're on a budget, read on!
Today I'm reviewing 3 of the cheapest web hosting options for my fellow frugal techies.
Whether it's shrinkonomics or a property tax hike, life gets more expensive every year.
It's hard to find a bargain. But do a little investigating around the web and you'll find there are still a few deals out there.
This is especially true with web hosting.
And a big part of that is because there's TON of competition.
These web hosting companies are constantly dreaming up crazy ways to woo customers.
Sometimes it's free domains with a purchase of a hosting plan.
Other times it's just straight-up cheap prices.
So why would you want to opt for the cheapest web hosting anyway? Doesn't that sound just a little…suspicious? Certainly something must be wrong with it if it's cheap, right?
Well, these cheap seats of web hosting are appealing for a few reasons. The biggest reason is that…wait for it…they are cheap.
Sometimes that's all we can afford.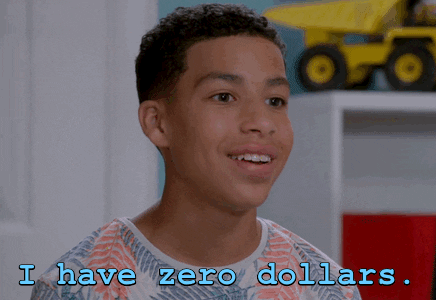 I was broke as hell when I started my freelance web developer career. I needed something super cheap for my portfolio and even stuck a client on a $1/month plan.
Nowadays I've upgraded largely to VPS & cloud hosting for my projects & clients but I still appreciate shared hosting for what it is.
Not all platforms are created equal
As a freelance web developer part of my job is deploying websites. Over the last few years I've had the opportunity to experiment with various hosting providers and plans. Some were AWESOME, some were good. Some started off fine, but then went downhill after only a few weeks. Others were just straight up terrible.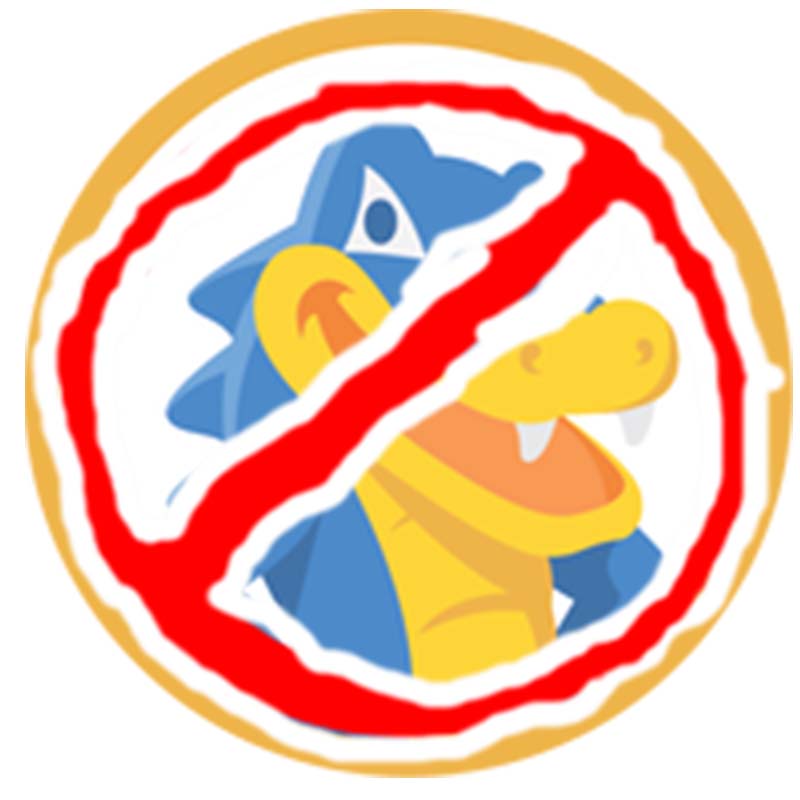 I'm sorry but I will never recommend HostGator to anybody.
Even if their hosting is somewhat affordable! The headaches, hidden fees, downtime and abysmal customer support forced me to find a new hosting provider for one of my clients who runs an commerce business.
Even though it was relatively inexpensive there, the risks far outnumbered the benefits.
And that's the first big thing I want to say before we go over the list of cheapest web hosting options.
When you buy a cheap shared hosting plan you save money, but there are risks involved.
For example, as with any shared hosting plan you are sharing resources with other people.
Some of these guys don't have the best intentions, hog resources and otherwise make their digital neighbors' lives (including yours) miserable.
Raise your hand if you like outages throughout the day at unpredictable times! Yeah, thought so. This is a risk with any shared hosting plan, not just the cheapest ones.
Also if you have a larger site, expect lots of traffic or need top-tier security stay away from these plans.
That goes for all shared web hosting. For those situations you'll want either a VPS (virtual private server) or the cloud.
With that out of the way, let's look at the cheapest web hosting options for this year. The three I'll be discussing today are Namecheap, Hostinger, and HoboHost.
Here's a quick glance at some specs:
Namecheap
Honestly, the name sounds sleazy. Because of this, I originally had apprehensions about using Namecheap.
This was a few years ago when I first started freelancing. But since their domain names were super cheap (they have some killer coupons), I decided to try their cheapest hosting plan, Stellar.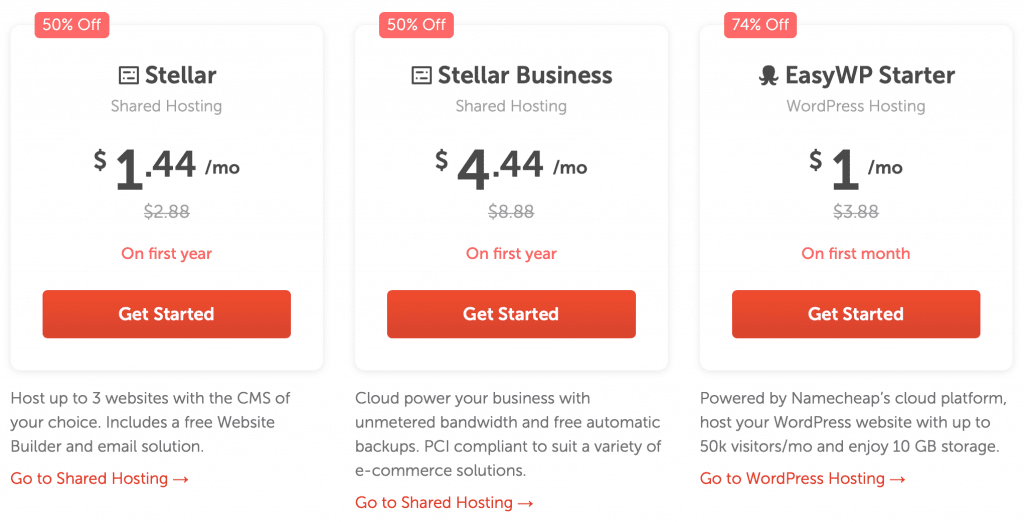 With Stellar I paid under $2 a month for the first year and for that price the specs aren't so bad at all. Currently their first year costs $1.44 per month bringing your annual fee to $17.28. That's not quite a dollar a month, but Namecheap's specs and service make it worth the extra pennies.
But ALERT! These are enticing prices for the FIRST YEAR ONLY.
You will see a price hike after your 12 month introductory price is up. When that happened to me, I just decided to renew anyway rather than migrate my site to another cheap host. This is a great price for anybody just getting started with web hosting.
The featured specs are generous for the price:
20 GB disk space
Bandwidth: Unmetered
Hosted domains: 3
Subdomains: 30
You can also upgrade to a dedicated IP for $2 a month. That's a nice option if you want root access along with all the benefits of FTP.
Of all 3 platforms on this list, Namecheap is my top recommendation.
Why? Because I've been with them for years and in addition to the decent specs, the customer service has always, and I do mean always solved my problems regardless of the tier I was on.
Expanded specs:
Namcheap "Stellar" Plan Features ($1.44 per month)
Disk Space?
20 GB SSD
File (Inode) Limit?
300.000
Bandwidth?
Unmetered
Uptime?
100%
Hosted Domains?
3
Parked Domains?
Unlimited
Subdomains?
30
Backups?
Twice a Week
Cloud Storage?
no
cPanel (Control Panel)?
yes
Website Builder?
yes
cPanel 2FA?
yes
Dedicated IP?
$2.00/mo
Free Apps?
100+ apps with 1-click install
PCI Compliance?
no
FTP Users?
50
Money-Back Guarantee?
30 days
Personal Nameservers?
no
Namecheap's cheapness also extends to just about every other service they offer. So whether you need domains, a VPN or want to upgrade to VPS, you can do so relatively cheaply.
Good specs for the price
Prompt customer service
Other services are cheap too (domains, VPN, upgraded hosting packages)
Deals are generally for the 1st year only
Check out Namecheap here.
2. Hostinger
Hostinger is a European company and hasn't had much play here in the States. In fact I only first heard about them last year when one of their people approached me for a YouTube sponsorship opportunity.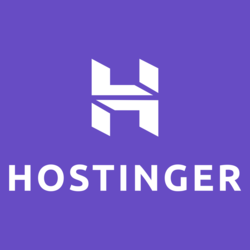 After researching the company and exploring a VPS plan, I didn't understand why there's a sort of "blackout" when it comes to North America and this company. They have decent specs for the price!
The landing page is clean and the prices are CHEAP. Like Namecheap, their renewal plans are more expensive than their introductory offers but here's where it gets interesting.
If you sign up for a 4-year plan, it's only .99 a month. If you use my coupon code, that gets bumped down to .80 cents a month. (Use code CANDY at checkout and be sure to use my link.)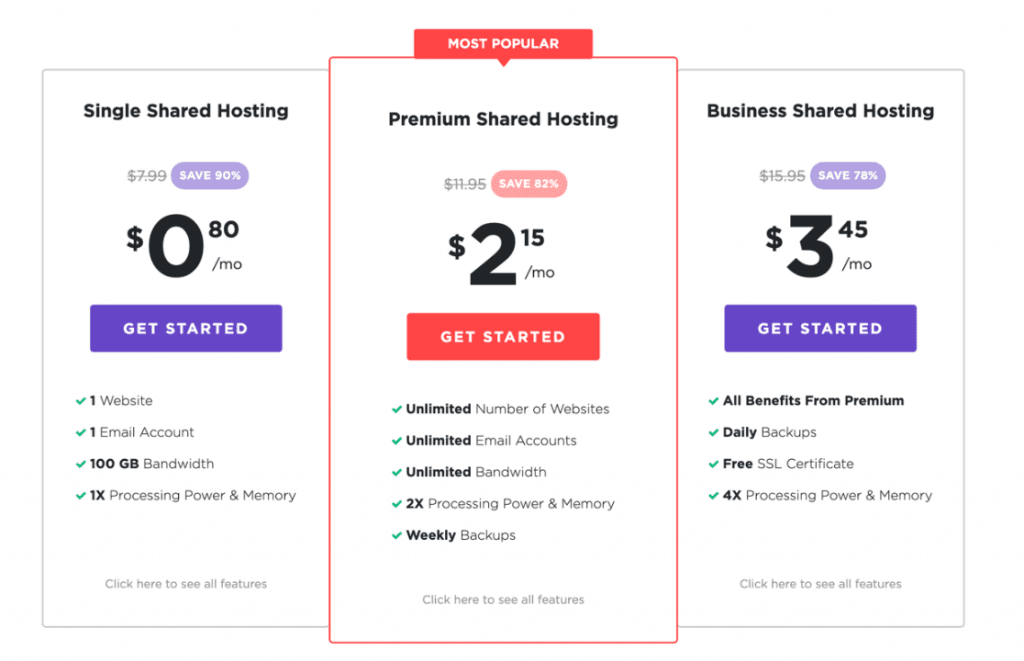 If you signed up in 2022, you'd renew in 2025 and then pay $2.15 a month.
That's still a good deal.
The specs aren't as impressive as Namecheap but they still fulfill all basic requirements for many of of us.
Single Shared Hosting Plan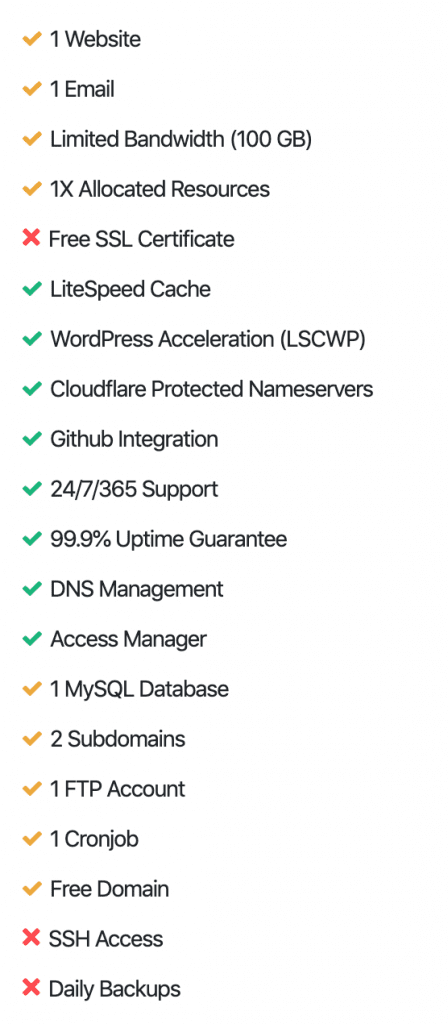 10 GB disk space
Bandwidth: 100 GB
Hosted domains: 1
Subdomains: 2
This is an ideal plan for anybody needing long-term hosting for a low-traffic or experimental site. Or even a web developer portfolio if you know you're going to be in the business for at least a few years.
Hostinger doesn't offer cPanel. They have their own custom control panel. It does share similarities with cPanel and the layout is honestly a LOT cleaner.
There are also modules that aren't found in cPanel, like the SEO toolkit. So if you consider cPanel to be a pain in the butt or having too many outdated features, this new-school upgrade could be a refreshing replacement.
Here's a quick look at their control panel:
Good specs for price
Sleek control panel with expanded options
SEO Toolkit included
Deals are generally for the 1st year only
Customer wait times can be long for tech support
Check out Hostinger here.
3. Hobohost
Number three on this list of cheapest web hosting options is Hobohost.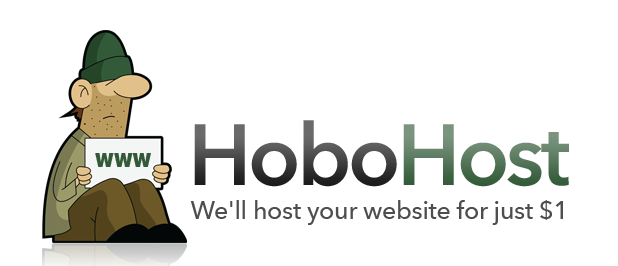 As the name implies, the hosting plans are meant to be hobo-level affordable. Like the Namecheap and Hostinger, Hobohost gives you the deals when you can commit to a year or more.
Their cheapest plan, the Floor Package, comes to 92 cents per month for a total of $11 a year. This is the cheapest option of the three platforms. Even better, there is a virtually zero price hike after the first year! For example your first year of the Floor package is $11, but subsequent years are only $12.
Floor Package:
4 GB disk space
Bandwidth: 20 GB
Hosted domains: 1
Subdomains: 10
This package is limiting! As in super limiting. I experimented with Hobohost's Floor Package and within two months had already reached my limit.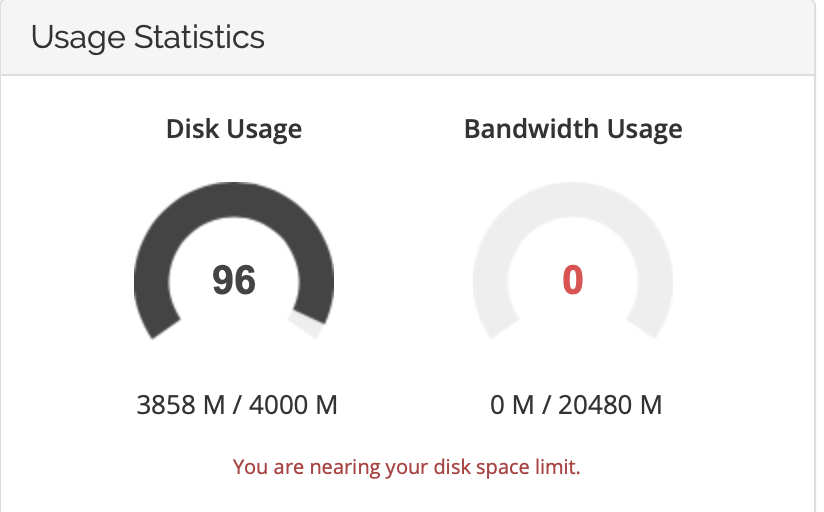 The issue I failed to plan for is that they didn't disclose the disk size on the spec sheet. I found out AFTER I signed up. So I quickly filled up my disk with the site I was building (small niche WordPress site).
I would only recommend Hobohost's Floor Package package for experiments, college projects, prototypes or static sites with not a lot of media. Otherwise you will run out of space. As somebody who experienced that, it's just not worth the headache.
No price hikes after the first year
Specs lacking: limits are reached quickly
Honorable mention for cheapest web hosting: 000WebHost
If the above options are still too pricey for you, 000WebHost is the platform for you. The hosting is 100% FREE.
Powered by Hostinger, the specs and security are pretty bad but you can still get away with hosting either a low-priority or experimental site. You could even host a college project here. I absolutely do not recommend using this option for WordPress blogs, ecommence or anything important! You get what you pay for. And when you're paying nothing, you can't expect much.
Free plan:
000WebHosting also offers upgraded penny plans, including their Single Shared Hosting plan for $0.79 a month, which affords you a bit of an upgrade in terms of bandwidth (100GB).
To review: when would you want one of the cheapest web hosting plans?
One, if you don't expect a lot of traffic. Maybe you're building a demo or prototype. Or you want to showcase a project that's part of your software developer portfolio. Heck, maybe you have a blog that is SUPER focused on an obscure topic.
Two, if you don't need to scale. Basic shared web hosting plans don't scale well, and because you're sharing it with others you won't have root access. So the cheapest web hosting options are almost always only suitable for small sites you don't plan on growing.

However, if you DO plan on scaling but don't have the money just yet for something like a VPS or the cloud, you could start with one of these basics plans.
Then, as you grow and have some extra money, splurge on the upgrade.
When I was completely broke but planning on scaling, this is exactly what I did. The migration process can be a headache but sometimes it's the only option when you're starting out with very little cash.
I'm sure I'm missing a few on this list, so let me know some other cheapie hosting plans you've used. Happy hacking!
What are the cheapest web hosting plans?

Namecheap offers the Stellar plan which is currently $1.44 per month. Hostinger offers Single Shared Hosting which can be as low as 80 cents per month. Hobohost has a $1/month tier called the Floor Package.

When should I use shared hosting?

You should use shared hosting if you don't need to scale, don't expect a lot of traffic, don't need tight security but need space for a small project like a prototype, microblog, portfolio or school project.