In today's comprehensive Edabit review, I'm showing you this popular coding platform while comparing it to other FAANG-level platforms like LeetCode and Codewars.
What is Edabit?
Edabit is a coding platform with over 10,000 interactive coding challenges ranging from Very Easy to Expert. While most platforms focus on either beginner or expert, Edabit covers all of that and everything in between.
Plus it has a gamified environment where you can gain XP, level up and unlock achievements.
This Edabit review contains affiliate links. We may receive compensation if you buy something. Read our disclosure for more details.
This online collection of bite-sized coding challenges allows you to solve problems in 8 languages, which I'll cover more in a bit in this Edabit review.
Edabit has been used for everything from friendly coding challenges to FAANG interview prep.
From algorithms to validation, and recursion to logic, I went deep inside Edabit to explore this massive coding platform. And I'm gonna show you what it's all about.
TLDR: Edabit Review

Edabit is a FAANG interview prep platform with over 10,000 coding challenges ranging from Very Easy to Expert.

You can choose from 8 languages such as JavaScript, Python, PHP and beyond.

Whether you're an absolute beginner or are ready to start applying for FAANG-level jobs, I think there are coding questions for just about every coder.
Edabit Review: Overview
💰 Cost: First 15 problems free then $39 per month / $120 per year / $299 for lifetime
🖥️ Format: Interactive
💪 Support: Yes
🎖️ Certificate: No
Now I'll show you Edabit's:
✅ ideal audience
✅ features
✅ layout
✅ pricing
And more.
Edabit Review: Ideal Audience
Edabit is for coders of all abilities. Meaning there are:
✅ beginner coding tutorials for code newbies
✅ video walkthroughs for some easy problems
✅ questions ranging from Very Easy to Expert
✅ areas for uploading your own coding challenges
And beyond.
So whether you're a code newbie just getting your feet wet, feel pretty comfortable with your coding skills, or are ready to start preparing for your FAANG interview, I think there's something for every level of coder.
Edabit Review: Beginner Tutorials
Edabit contains free tutorials on JavaScript and Python. Each of these interactive tutorials covers the absolute basics of the programming language.
Do I have to take the tutorials before working on coding questions?
No, you don't have to take these tutorials. Rather, they are for newbies who have little to no experience with programming.
If you're ready to jump into the 10,000 challenges, then go for it.
But don't expect to be a ninja after these tutorials. They're just meant to get you up and running with the basics of the language.
Let's take the Python tutorial as an example.
Designed for beginners, you'll go from knowing nothing to being able to solve small Python challenges after learning about:
✅ strings
✅ variables
✅ functions
✅ lists
✅ dictionaries
And more.
These interactive tutorials are beneficial because you can check your work instantly:
By the end of these tutorials, you should be able to solve Very Easy challenges in JavaScript and Python.
Edabit Layout: 10,000 Coding Challenges
As I mentioned before, Edabit has over 10,000 coding challenges.
You can solve them in 8 languages:
And they range in difficulty:
✅ Very Easy
✅ Easy
✅ Medium
✅ Hard
✅ Very Hard
✅ Expert
You don't have to work on the problems sequentially. You can start on any level of difficulty you want and hop around as you please.
So if you take JavaScript as an example, you can do everything from return the sum of two numbers (Very Easy):
… And go all the way up to Caesar's Cipher (Expert):
Each of the 10,000 challenges contains:
🟢 instructions on how to navigate the problem
🟠 an interactive coding environment where you'll code your solution
🔵 a list of resources to help you understand the problem
🟣 a list of possible solutions
Finally, there's a comments section for every problem where you can connect with other Edabit users to compare notes and get help.
🚨 Bonus: Edabit has a gamified learning environment where you'll earn XP for every correctly completed problem.
You can see how you stack up to other Edabit users as you level up and gain REP (reputation).
---
Edabit Review: Features
Now let's take a look at some of the small yet important features of Edabit.
1. Practice
Not ready to start working on challenges for XP? Take some time getting used to the platform by working on practice questions.
But it was kind of awkward for me. Because to access the practice panel, I first had to successfully complete 5 challenges.
2. Shuffle
The Shuffle function adds a little bit of spice by throwing random questions at you. But you can customize the randomness by choosing:
✅ language
✅ difficulty
✅ categories
✅ solved/unsolved challenges
3. Spiffy Organization
You'll find that your personal performance stats are organized into:
✅ Completed
✅ Published
✅ Collections
✅ Bookmarks
That way you can keep track of your Edabit coding progress.
4. Upload Your Own Problems
Once you're feeling up to snuff with your coding skills, you can create and upload your own coding challenges for other Edabit users to solve.
But beware: Coding challenges are rated on based on accuracy, solvability and more.
So if your problem doesn't measure up, it can be voted into oblivion… along with your reputation.
5. Thirty Days of Code
So after you've signed up for Edabit, you just solve a bunch of coding challenges right?
Not exactly.
Once you've signed up for a monthly, yearly or lifetime subscription to Edabit, they follow up with a video series "30 Days of Code."
In these videos, you'll find solution walkthroughs of easy coding challenges. And in the process, you'll learn effective coding habits.
Edabit Cons
Every coding platform can't be all lollipops and rainbows, right? 🍭🌈
And that holds true with Edabit.
The biggest complaint I have is that there aren't curated lists of questions asked at FAANG interviews. Instead, you work on challenges based exclusively on difficulty level.
You also won't find the option of participating in mock interviews, which is something you'll find at places like AlgoExpert and LeetCode.
Finally, many problems on Edabit are user submitted. So there are some problems that may not be accurate. Luckily, it's easy to tell by the comments.
So is Edabit worth it?
I certainly think so. With its gamified learning environment, organized user interface and other unique features, I believe Edabit is a cut above most other platforms.
But let's see how it measures up to these other guys…
---
Edabit vs LeetCode
Edabit and LeetCode both have:
✅ free tiers
✅ community
✅ user submitted problems
✅ a gamified learning environment
✅ been used for FAANG interview prep
So what's the difference between Edabit and LeetCode?
For starters, while Edabit has over 10,000 coding questions, LeetCode only has around 2200+. And while Edabit questions range from Very Easy to Expert, LeetCode only has Easy, Medium and Hard:
LeetCode does have more problems available on its free tier, but the benefits of the platform take effect with a premium subscription.
With the premium subscription, you'll gain access to articles and more questions.
But with Edabit, you already have access to articles for all questions. And when you sign up for the Edabit subscription, you'll have access to over 8000 more questions than with LeetCode.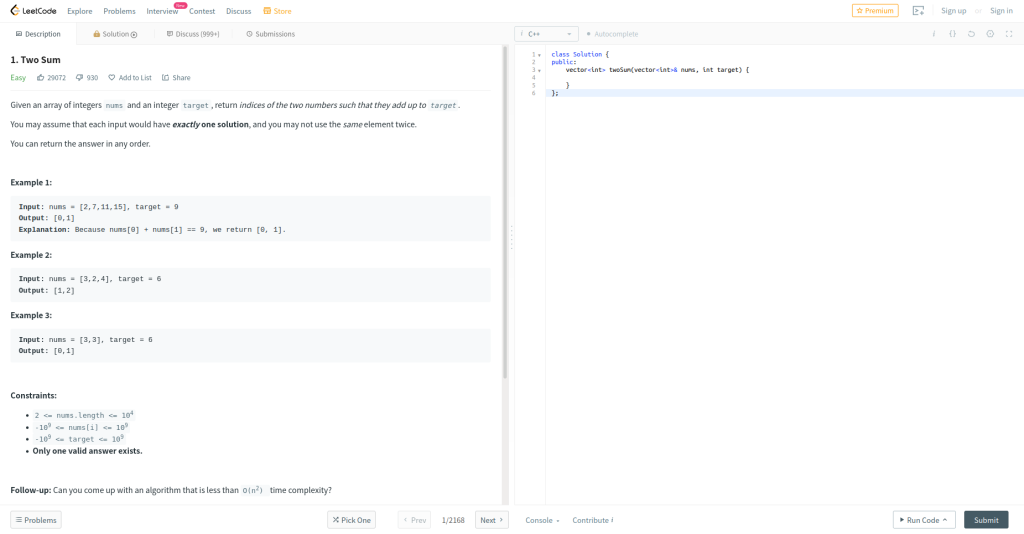 Like Edabit, problems are user submitted. So the quality is not always guaranteed.
LeetCode does support more languages (16 at the time of publishing this article), has weekly contests, and curated featured lists such as top:
interview questions
FAANG questions
100 liked questions
And more.
But with Edabit, you can curate your own collections and bookmarks of your favorite challenges.
LeetCode also has a leaderboard where you can see how you rank with other LeetCode members. And while Edabit doesn't have a leaderboard, you can still see other members' levels and REP in the comments section of problems.
Finally, LeetCode has mock interviews. That is something you won't find on Edabit. So if mock interviews are a must, it might be worth looking into LeetCode.
Edabit vs Codewars
Before I get going, I just want to point out that I have no idea how many coding problems there are on Codewars. They're oddly secretive with this number. ¯\_(ツ)_/¯
Like Edabit, Codewars has:
✅ free tiers
✅ community
✅ a gamified learning environment
And beyond.
Codewars has wayyyy more languages than Edabit. In fact, they support over 50 of 'em. But that includes languages like Elixir, Brainf$%k and CoffeeScript.
Not exactly the most FAANG-friendly programming languages.
Like Edabit, Codewars has questions ranging from beginner to expert.
However, the first thing you'll notice about Codewars is that, in order to join, you have to solve a problem in the language of your choice.
But that's not so easy if you've never coded before.
So if you're a code newbie, Edabit's tutorials may be the best place to start.
One thing I did notice about Codewars is that they're coding environment is in dark mode, which I did like.
You don't have that option with Edabit.
Codewars also has collections of problems, or "trainings," such as 99 Problems. The goal is to work on progressively more difficult problems as you earn kata (points).
So if collections of problems are your thing, Codewars might be the platform for you.
But as far as major improvements over Edabit, I really couldn't find any.
Edabit Review: Conclusion
In today's Edabit review, we looked at:
And beyond.
Next in the Edabit review, I compared it to LeetCode and Codewars.
So who comes out on top?
If you're looking for a clean interface with a dizzying array of coding questions, I think Edabit is the way to go.
And I keep going back to the fact that Edabit has over 10,000 coding questions for all abilities.
With 15 free questions, I definitely think it's worth checking out.
That said, when it comes to Edabit, review your own programming needs because these platforms aren't for everyone.
---
Readers of this Edabit review are also reading:
---