Brave Browser Review TLDR:

🖥️ Brave is an open-source browser with a focus on security and speed.

🔋 It uses 35% less battery on mobile.

🔒 It has better privacy by default than Firefox.

💰 Brave browser features Brave rewards and lets you earn BAT, a cryptocurrency you can use to support your favorite web creators. (This site is an official Brave Verified Creator!)

💾 The browser is based on Chromium, which was also used to build Chrome. The interface you love on Chrome is the same interface on Brave.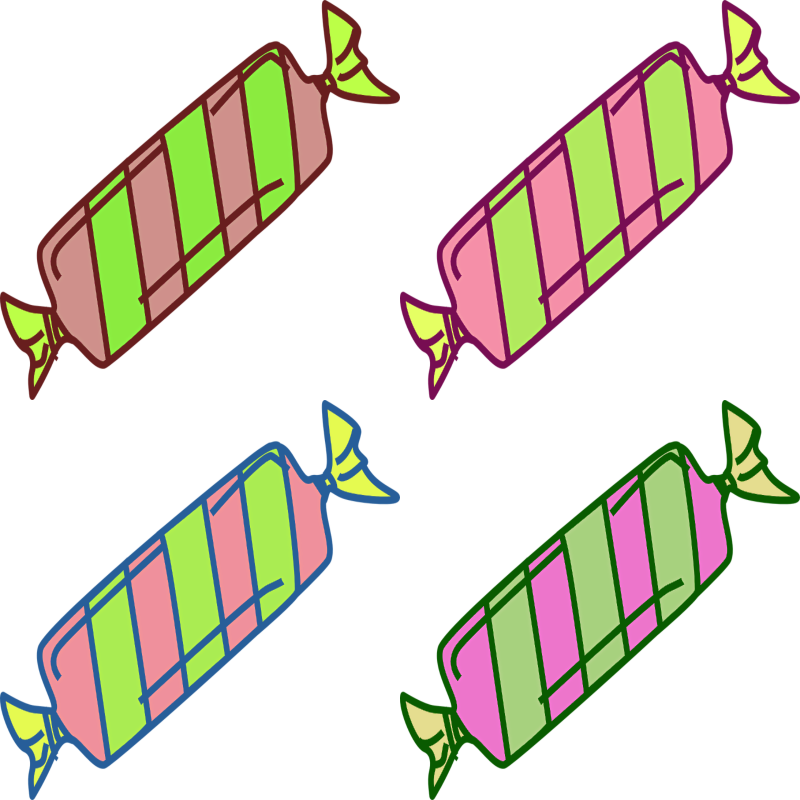 This post is brought to you by RealToughCandy.io.
Escape tutorial hell!
My video review of Brave browser:
What is Brave Browser?
Brave browser is a free, open-source browser. It was developed by Brave Software and initially released in 2016.
Fun fact: The CEO of Brave Software is Brendan Eich. He is the creator of JavaScript and co-founder of Mozilla.
It was designed with a focus on speed and security.
Brave browser loads pages 3x-6x times faster than other browsers.
Brave browser also has a built-in ad blocker + shields that prevent sites/apps from tracking you.
You can earn cryptocurrency (BAT, or Basic Attention Token) through their Brave Rewards program.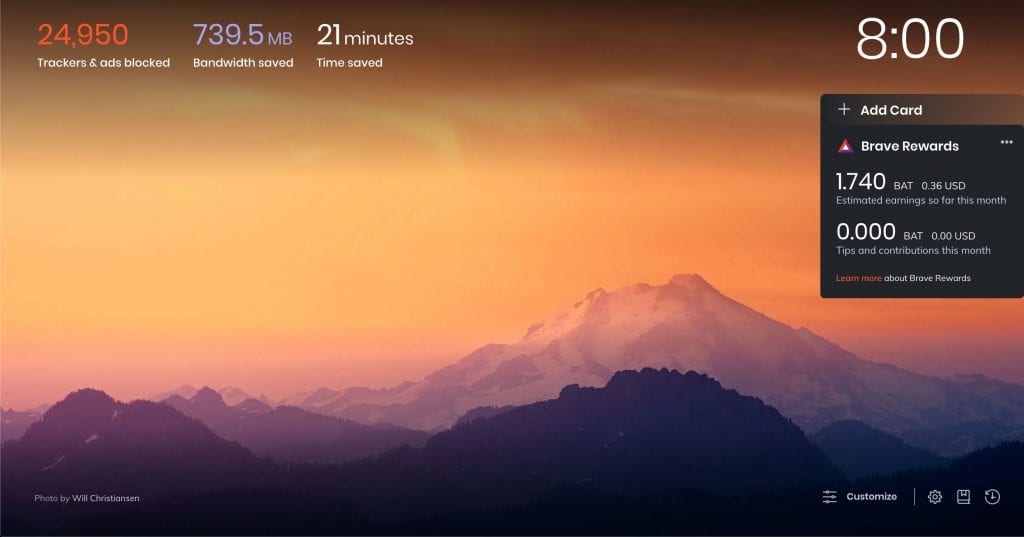 Brave Browser Review: Why I switched from Chrome to Brave
Let me share a little browser jumping history with you.
I'm actually one of the few people who enjoy Safari for desktop. Well, I should say used to enjoy Safari for desktop.
About two years ago I noticed a trend where more and more sites were breaking on Safari. Many popular apps and sites just would not work.
I was forced to migrate.
I tried Firefox but with no pinch to zoom (they only added in VERY recently), it was off my list.
Does that sound like a petty reason to not use a browser?
Perhaps, but maybe I'm just petty like that. In all seriousness, I use pinch to zoom a LOT.
So that was a big critical feature for me that was missing from Firefox.
Simply stated, I was pushed to use Chrome.
Chrome is a memory hog, it's slow and I am not a fan of their privacy policies. At the same time, Chrome offered all the features I needed to have a normal browsing experience.
And so I begrudgingly stuck with Chrome.
Despite not being satisfied, even after a few people suggested I try out Brave, I felt hesitant to try it. (I share why below).
But after about 8 months of resistance, I was fed up with Chrome's non-privacy-minded ways.
And it was just too freaking slow.
My first impressions of Brave were good.
One of the reasons I was hesitant to try this browser is because I didn't want to learn a new interface. But because Brave is based on Chromium (the same as Chrome), the interface was very intuitive.
But the VERY first thing I noticed was how blazing fast this browser is.
The speed improvement was immediate.
Secondly, with a few clicks I was able to import my browsing history, bookmarks, cookies, and other saved info like passwords from BOTH Chrome and Safari.
This was another big reason why I was hesitant to use Brave in the first place.
My saved info saves me a lot of time on the web, and I just assumed this feature wasn't available on Brave.
But it literally took me less than a minute to import everything from multiple browsers.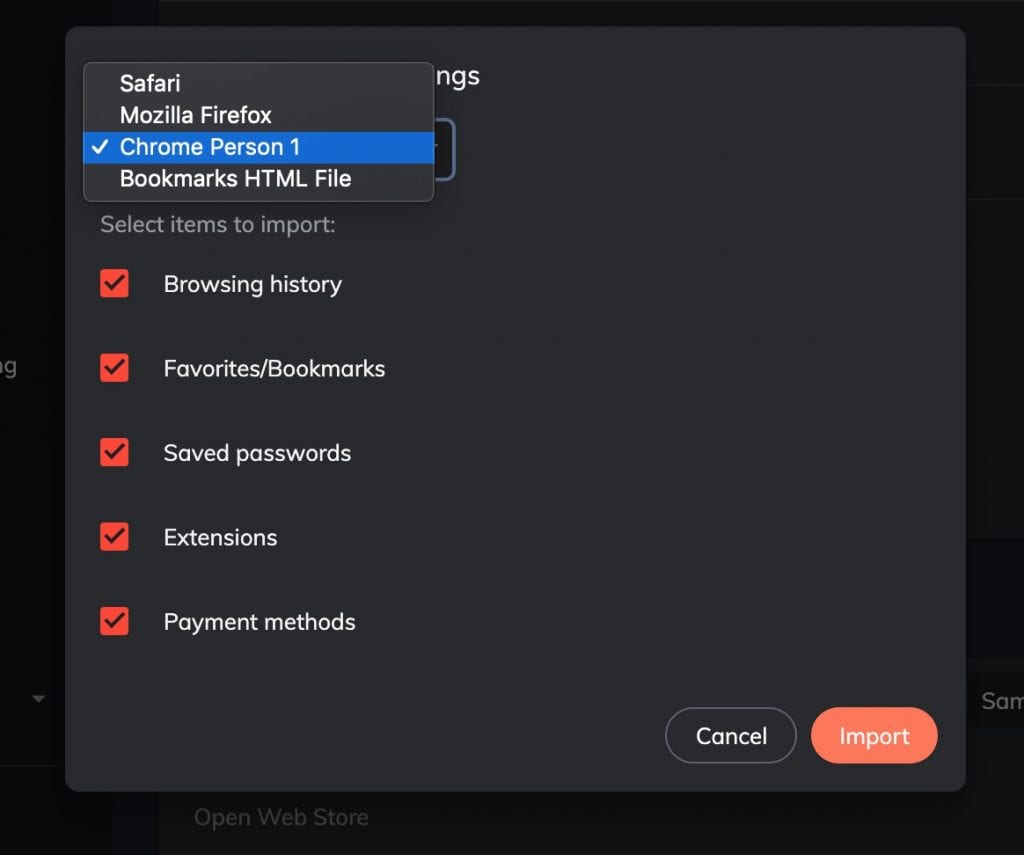 I also really liked that I didn't have to install any extensions to get everything I needed for a fast and secure browsing experience.
Additionally, I like Brave's ad model. What do I mean?
Well, Brave comes with a built-in ad blocker.
And as a consumer, I know how invasive ads are.
But as a creator, I also know how important ads are to creators' livelihoods.
So while I don't enjoy ads per se, I tolerate them on sites like YouTube and blogs.
And with Brave you can easily turn the Shields button off on sites you want to support.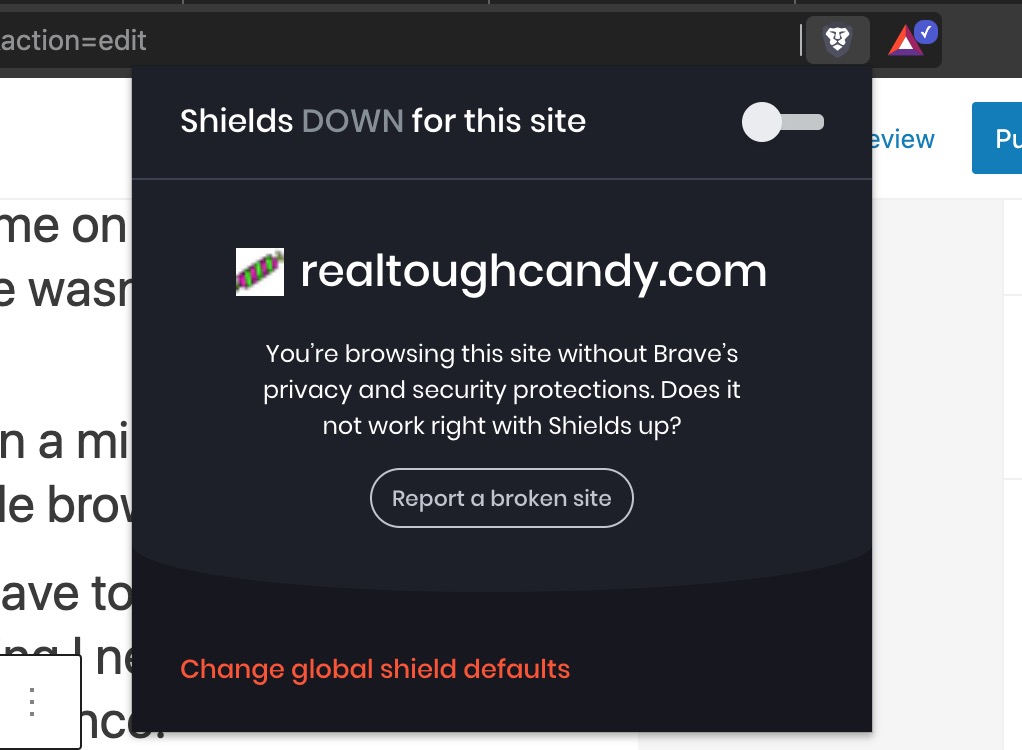 Note however, that when you turn off shields you will be exposed to those ads' trackers, plus any other trackers the site has installed, like Google Analytics.
(As a side note, I have had to turn shields off on some apps in order for them to work. So if a site isn't loading for you, put your shields down to see if that is the problem.)
But here's the cool thing with ads on Brave.
Brave has its own cryptocurrency, BAT, or Basic Attention Token.
And if you decide to enable Brave Ads, you earn BAT every time you view an ad. You do NOT need to select Shields Down anywhere for this to happen.
These ads appear as push notifications: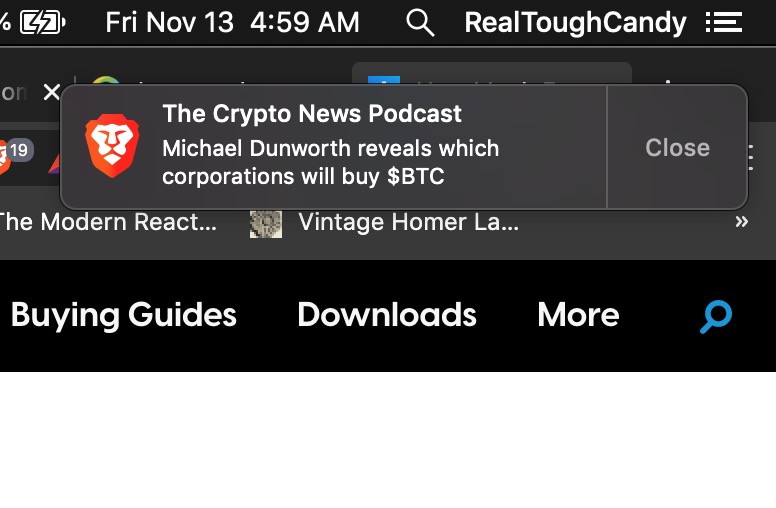 And you can set the frequency in which you view the ads. In my case, I am satisfied with two an hour: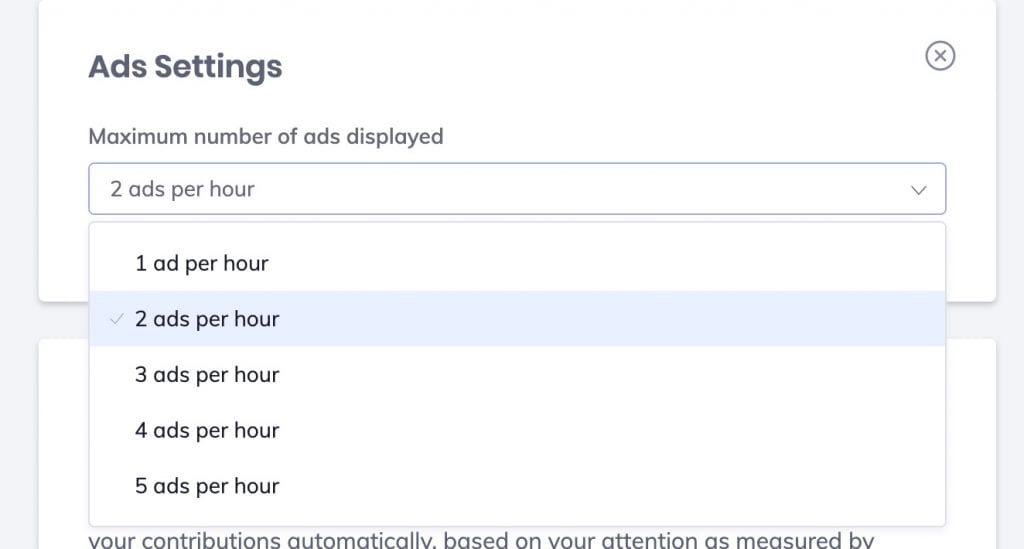 I can also award creators with my earned BAT.
I can do this automatically (dispersed based on the attention I gave to each site/app):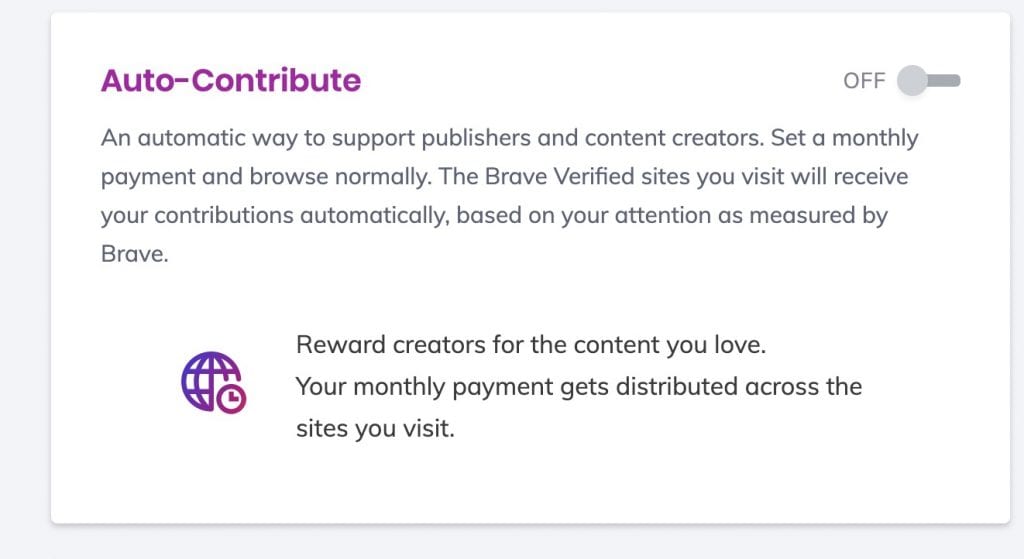 Or I can manually tip them:
The caveat is, the creator must be a Brave Verified Creator in order to receive BAT.
As you can see, there are some great configurations here, based on your tolerance for ads and creators you want to support.
Brave Browser Review: Features
Brave browser offers a suite of features.
Note: Some features are not available on all platforms (i.e. iOS).
🛡️ Shields
Ad blocking
Fingerprinting prevention
Cookie control
HTTPS upgrading
Block scripts
Per-site shield settings
Configurable global shield defaults
💰 Brave Rewards
Earn by viewing private ads
Tip your favorite creators
Contribute monthly to sites
Auto-contribute to sites
Verify with Uphold and move funds in and out of your wallet
Become a verified creator and start earning BAT from tips, contributions and referrals
🔒 Security
Clear browsing data
Built-in password manager
Form autofill
Control content access to full-screen presentation*
Control site access to autoplay media
Send "Do not track" with browsing requests
📊 Address Bar
Add Bookmark
Autosuggest URLs
Search from address bar
Autosuggest search terms
Show/hide bookmarks toolbar
Show secure or insecure site
📑 Tabs and Windows
Private Windows
Pinned Tabs
Auto-unload
Drag and drop
Duplicate
Close Options
Find on page
Print page
Extensions
Brave Desktop now supports most of the Chrome extensions in the chrome web store
Brave Browser vs Chrome privacy
As you can see, Brave's defaults ensure that trackers, invasive ads, http and malware/phishing are blocked: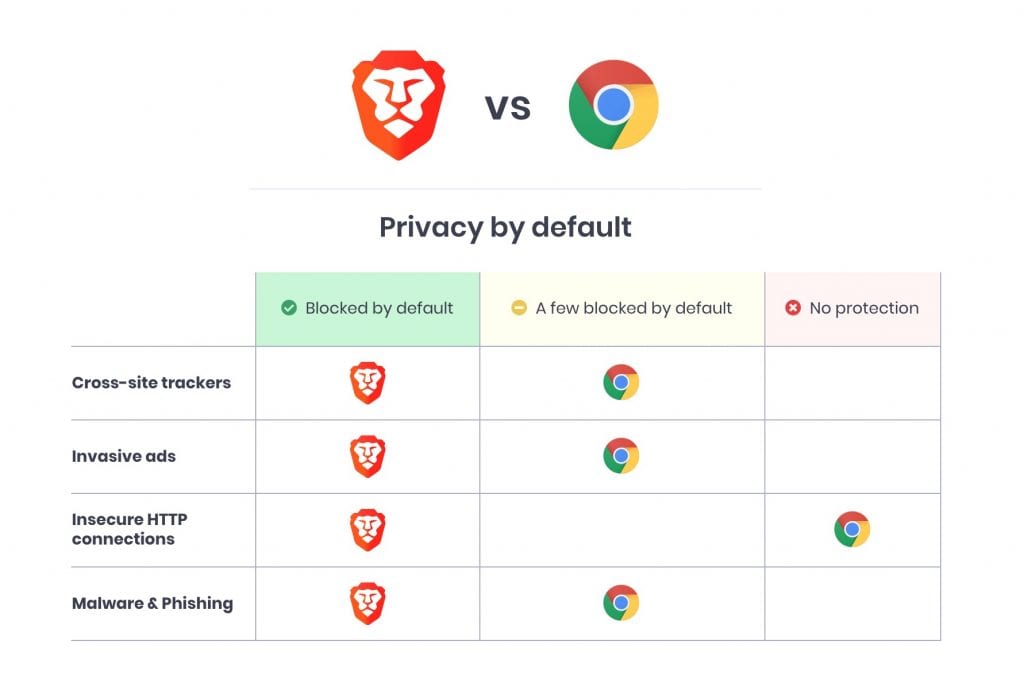 Brave Browser Review: Conclusion
I recommend Brave browser to anyone looking for a secure, private and fast browsing experience.
In addition, you can support your favorite creators via Brave's cryptocurrency, BAT.
If you're considering switching over to Brave browser, review its features and specs before making the investment. Brave browser has a lot to offer, but it's not for everyone.
You can download Brave for free on Brave's official website.
If you enjoyed this Brave browser review, check out my other reviews – like this one on DataCamp.
Is Brave Browser Free?

Yes, Brave browser is free. You can download it safely and quickly from its official website brave.com.

Who owns Brave browser?

Technically nobody owns it, as Brave is an open-source browser. Its source code is on GitHub. Brave browser was developed by Brave Software, Inc. and is based on the Chromium web browser.

Who invented Brave browser?

Brave browser was developed by Brave Software, Inc. The CEO, Brendan Eich, is also the creator of JavaScript and co-founder of the Mozilla foundation.

Is Brave browser safe?

Most people consider Brave browser is safe. Brave is open-source and features numerous shields and security measures, including: ad blocking, fingerprinting prevention, cookie control, HTTPS upgrading, block scripts, per-site shield settings, configurable global shield defaults, clear browsing data options, built-in password manager, form autofill,
control content access to full-screen presentation,
control site access to autoplay media, and send "Do not track" with browsing requests. Some features are pending on some platforms (i.e. Brave for iOS).