Maybe you heard the buzz about a new tech education platform that launched recently.
But what the heck is RealToughCandy.io?
Will it teach you how to code?
Learn algorithms?
Data structures?
No, it won't.
But what RealToughCandy.io will do is help you level up, land a job and get a raise.
Step inside and we'll show you what it's all about.
RealToughCandy.io launched
August 24, 2020.
---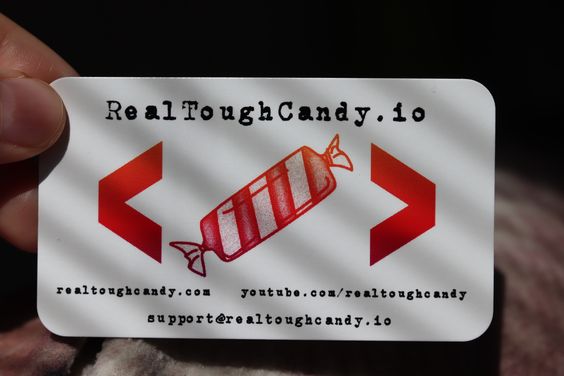 RealToughCandy.io is the latest creation by software developer, author, and instructor "RealTough" Candy. Known as RTC, she began her journey in 2017 to help developers rock their coding journey.
After years on the scene, RTC noticed that there was a dizzying array of technical training available to developers:
✅ online coding courses ✅ coding interview practice questions
✅ FAANG interview prep ✅ advanced programming courses
✅ a bajillion GitHub repos
But there was something missing.
Despite their complete immersion, many developers still weren't landing jobs.
Or they weren't earning what they should with their new-found programming skills.
Even worse, many of these developers were giving up.
That's when RTC decided to bridge the gap between learning programming and applying it to real-world scenarios.
How is RealToughCandy.io different from other programming platforms?
RealToughCandy.io makes your skills matter.
How do we do that?
1. By providing instruction based on real-world scenarios.
Using practical, actionable curriculum, RealToughCandy.io is ONLY interested in the practical application of developer skills.
2. By teaching processes, not specific implementations.
Unlike typical coding platforms, RealToughCandy.io provides students with a highly valuable problem-solving toolset rather than a code-along experience. This lets developers pivot contexts, so they can solve problems on their own.
3. By fostering a robust developer community.
New developers are able to connect with experienced developers in the field.
RealToughCandy.io
DOES
help developers land a rewarding career in software development
deliver no-BS, actionable content
help developers build their freelance business into a thriving empire
show developers how to revamp their portfolios to be smash hits
teach effective communication in the workplace
give actionable, real-world steps developers can start today
bridge the gap between coding skills and real-world scenarios
RealToughCandy.io
DOESN'T
teach developers how to code
mess with data structures or algorithms
waste developers' time with useless content
believe in death by PowerPoint
There are currently 5 courses available on RealToughCandy.io.
All courses are video-based. And they all have interactive components including:
✅ quizzes ✅ challenges ✅ projects ✅ labs
And more.
These courses were engineered for full student participation.

You will be challenged on this platform.

You won't be Netflix-n-Chilling on this platform.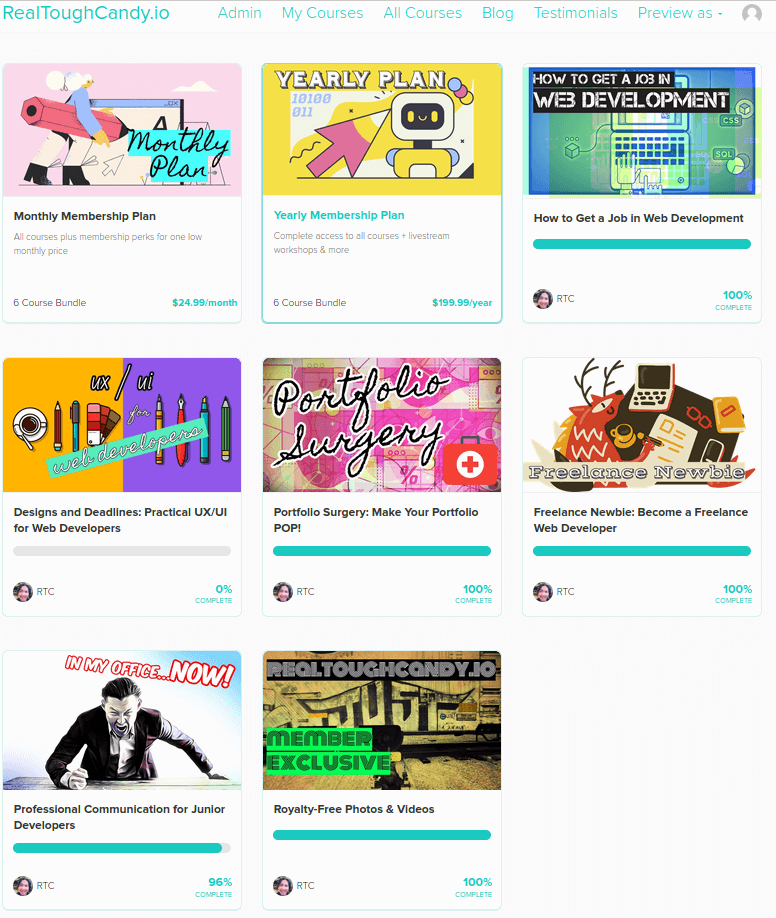 In addition, there's a collection of royalty-free photos and videos available to platform members. These come in handy for portfolio projects.
✨ 1. How to Get a Job in Web Development
How to Get a Job in Web Development is designed to help junior web developers land a job in the industry.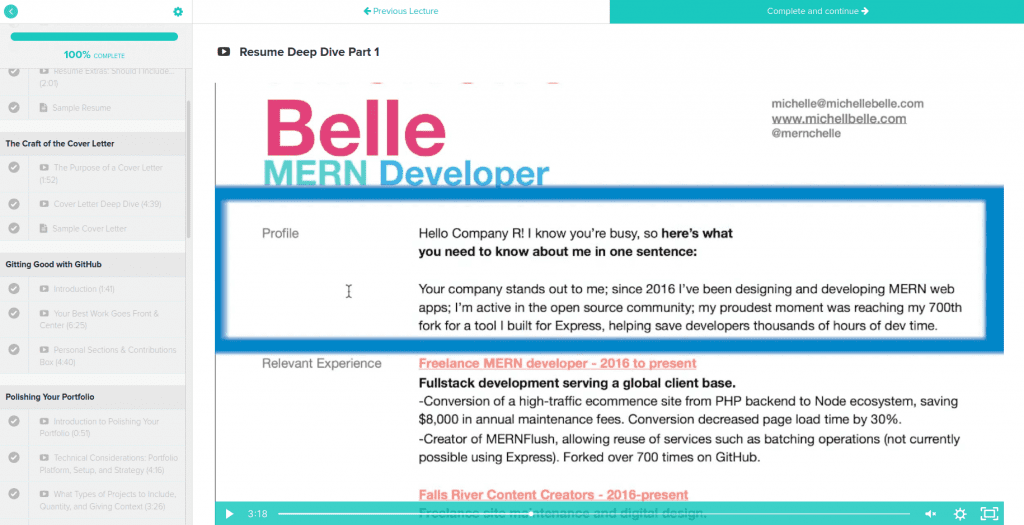 In this 5-star course you'll learn how to:
Craft your "Holy Clover" of application materials: resume, cover letter, GitHub account, portfolio
Increase callbacks, interviews and job offers
Use LinkedIn, Meetups and social media to your advantage
Strategically apply to jobs and maximize salary demands
Prepare for interviews via phone, video conference, in person
Get ready for your first week at work
And much more.
⭐⭐⭐⭐⭐
RTC is a fantastic instructor. Her passion shows in everything she puts out. Everything is explained in a very understandable way for aspiring and established developers and she knows her stuff. Great Job!

Brad Traversy, Traversy Media
✨ 2. Designs and Deadlines: Practical UX/UI for Web Developers
This course teaches students how to design and implement awesome user interfaces and experiences.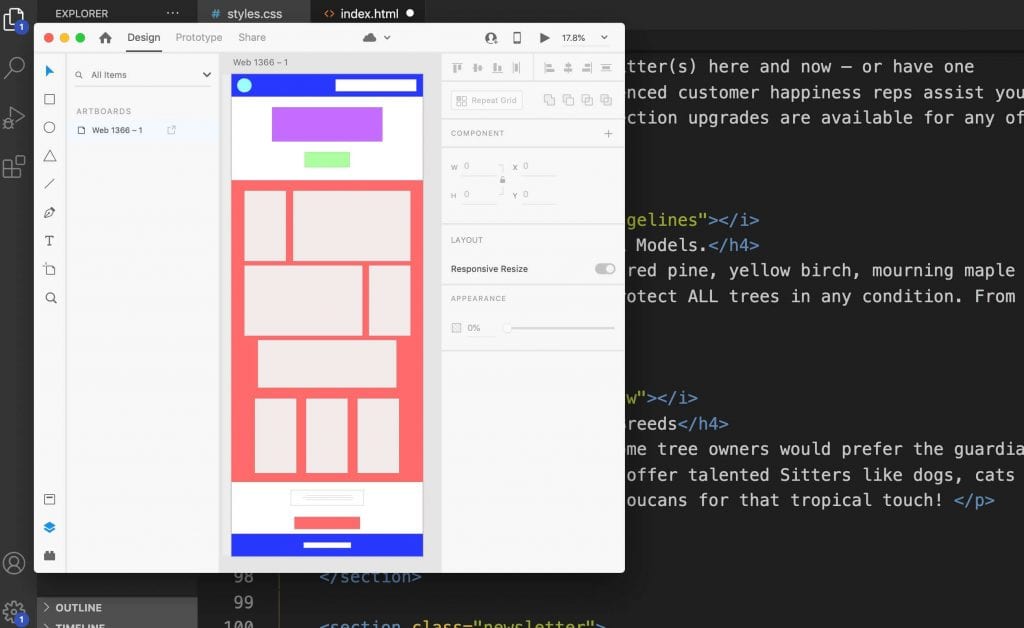 With Designs and Deadlines: Practical UX/UI for Web Developers, you'll:
Learn UX/UI fundamentals
Use Adobe XD to build high-quality interface designs
Create wireframes and mock-ups
Turn your designs into code
Build a prototype
Discover pre-built UI frameworks and libraries
And much more.
✨ 3. Portfolio Surgery: Make Your Portfolio POP!
Revamp tired projects and build an unforgettable portfolio with this course.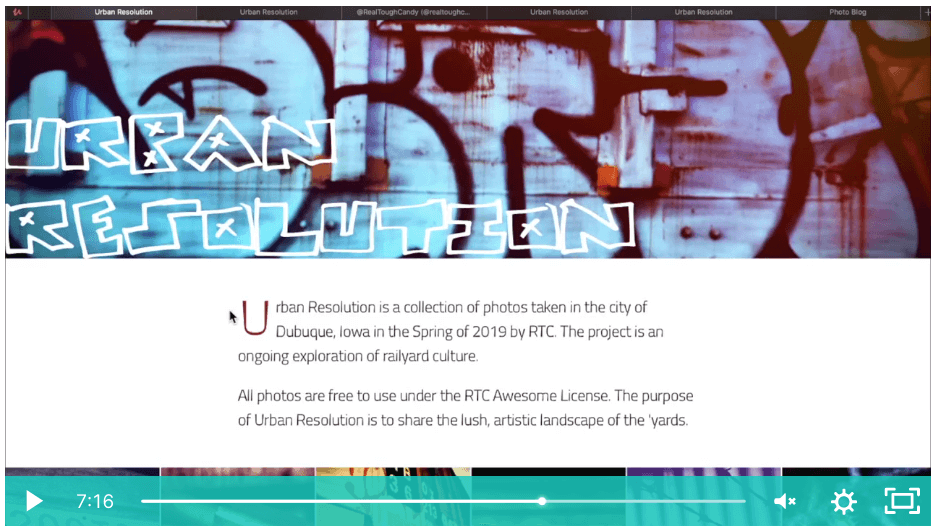 With lectures and labs, you'll learn 5 ways to make your portfolio stand out:
Retheming
Rewriting
Going to the component level
Refactoring
Adding features
In other words, you'll take your existing projects and transform them into custom creations. And employers will love them.
Stand out and get ahead with Portfolio Surgery.
✨ 4. Freelance Newbie: Become a Freelance Web Developer
This course is a beginner's guide to:
✅ finding clients ✅ making money
✅ building your web development empire
With Freelance Newbie: Become a Freelance Web Developer you'll learn how to:
establish price-structure for your services
draft successful proposals and contracts
find quality clients
build components of freelance websites
professionally engage with clients
write a business plan
And much more.
This is the most real-world freelancing course out there in 2020.
⭐⭐⭐⭐⭐
The amount of information in this course is insane. There's weeks' worth of work with these assignments. I know how I'm spending the rest of my summer (and fall)!

Beverly DeSilva, Freelance Newbie student
And if you're a freelance web developer that's hit a wall, there's enough information in this course to give your business a complete overhaul.
✨ 5. Professional Communication for Junior Developers
People don't interact with each other the way they used to. Many of us are losing the art of communicating with each other.
Why does this matter to junior software developers?
Professional communication is just as important as coding skills.
You need to interact with other devs, managers, clients and tech leads. And you need to communicate effectively.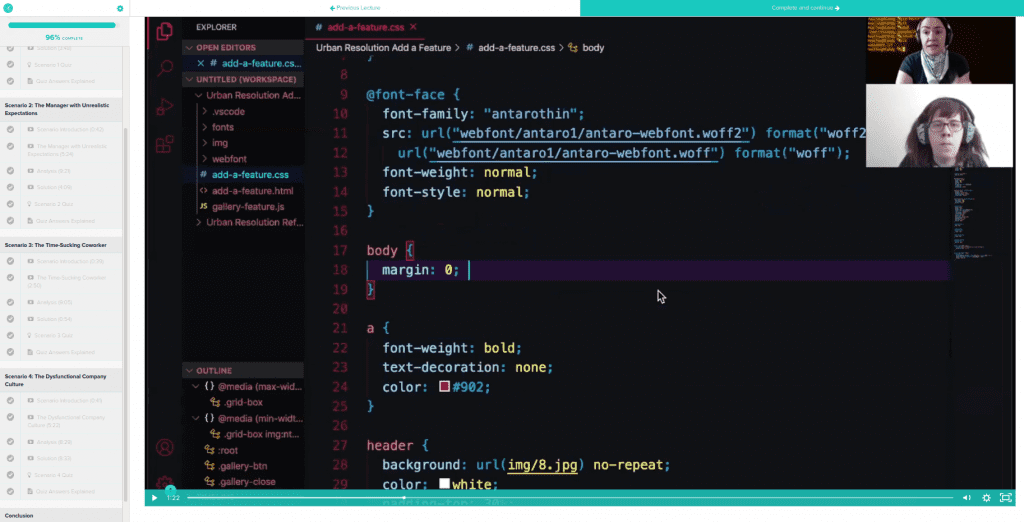 With a series of mock scenarios, you'll meet various characters:
a time-sucking coworker
an underutilized senior developer
a manager with unrealistic expectations
an intolerant company owner
You'll encounter these characters through the eyes of a brand-new junior developer, who's faced with common communication challenges. You'll learn how to effectively navigate these scenarios in your own workplace.
New courses on RealToughCandy.io will be released every four months. In addition, existing courses are updated regularly.
No, we do not currently offer portfolio reviews.
However, as a student of RealToughCandy.io you may submit your portfolio on the Discord server
See a portfolio review by RTC here.
Cost
All Access
to Courses
Perks
Lifetime
Access
Individual Courses
$79.99 each
N/A
N/A
✅
Monthly Subscription
$24.99/month
✅
✅
N/A
Yearly Subscription
🤩 (Best deal!)
$199.99/year
(save 33%)
✅
✅
N/A
With the yearly subscription, you'll get access to:
✅ mini-courses ✅ workshops ✅ newsletter
✅ royalty-free photos and videos ✅ Discord community access
And more. The yearly subscription is definitely the best deal.
What is a learning platform?
A learning platform is simply a place to learn online.
No. RealToughCandy.io is not a soft skills platform. Instead it helps developers overcome hurdles typically found in the early stages of their career.
No. Rather than act as yet another learn-to-code platform, we bridge the gap between new developers and the life-changing career opportunities that await them.
And while our platform caters primarily to that demographic, many aspects are appealing to mid-level and senior developers as well.
RealToughCandy.io features highly interactive video-based training courses, 1-on-1 portfolio coaching sessions, a royalty-free media library for student projects, an active and diverse learning community, and much more.
Whether you're completely new to the industry, are making the transition from an adjacent tech field, or want to strategically expand your current skill set, RealToughCandy.io is your home for no-nonsense software development.
Is the course How to Get a Job in Web Development on Udemy?
No. How to Get a Job in Web Development is exclusively available on RealToughCandy.io.
Is the course Freelance Newbie on Udemy?
No. Freelance Newbie is exclusively available on RealToughCandy.io
RealToughCandy.io makes software developer skills matter.
Whether you're having problems revamping your portfolio or need help brushing up on your communication skills, RealToughCandy.io has you covered. In addition, you'll learn about maximizing your chances of getting hired, create stunning UX/UI experiences and much more.
If you're a developer ready to level up, land a job and get a raise, RealToughCandy.io can help get you there.
We certainly think so. Courses on RealToughCandy.io are ideal for developers who are ready to level up, land a job and get a raise. In addition to courses, there are royalty-free photos and videos (perfect for projects), 90-minute portfolio reviews, mini-courses, access to a robust learning community and more.
Up Next: 26 Best JavaScript Shirts THIS YEAR [Bonus: JavaScript Stickers]