It's the roaring '20s and it's time to get a web developer job.
Web development is a booming career field, it pays well and can be highly rewarding.
So where do you start?
If you're like some people, you might browse listings on Indeed or some other job board. You find a few openings (of course they all want devs with 20 years of React experience, but hey), apply, and then…
Crickets.
Lots of 'em.
"Maybe it was just a bad batch," you say to yourself, then repeat the same process over.
Only to hear…
More crickets.
You spend an entire year in this vicious cycle! You might even get a few callbacks and an interview or two. But none of those end up panning out, either. They all went with a candidate who…somehow was deemed better than you, even though you put your best foot forward and have a really good portfolio (if you do say so yourself).
So what do you do? Try another year of applying and see if something changes?
Or take a step back, learn what you can do better, then implement the changes?
That second choice sounds like a lot of work. Oh yes, it most definitely is. But it's the only way you'll be able to stand out in front of the hundreds — and sometimes thousands — of other applicants who are applying to the same job you are.
If you want to get a web developer job, you've got to have a plan.
You've got to be strategic.
You've got to get tactical.
But how do you do that?
That's where How to Get a Job in Web Development comes in.
This is a course tailored precisely for people seeking entry level web developer jobs. I show you everything you need to stand out in front of other candidates so that your application materials pop. So that hiring managers, recruiters and other people in the hiring process want to talk with you… Not put your application materials in the digital shredder.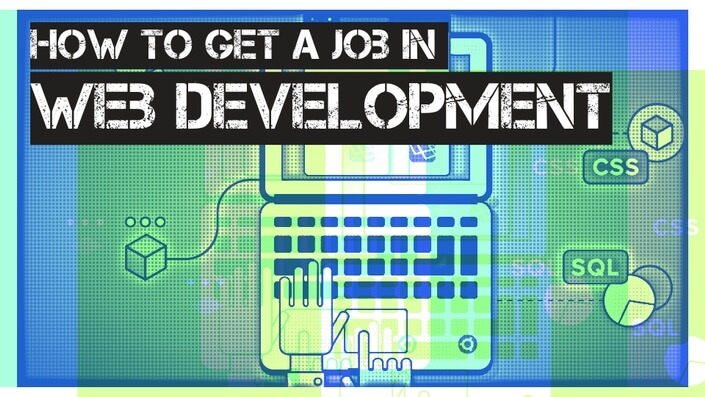 The best part is, you don't spend weeks watching half-baked, poorly-produced videos. How to Get a Job in Web Development is under two hours yet contains HEAPS of practical, actionable steps you can start using today so you can get a web developer job ASAP.

What you'll learn
In How to Get a Job in Web Development you'll learn how to do the following:
Expertly craft the "Holy Clover" of application materials: resume, cover letter, GitHub account, and portfolio.
Leverage the power of Meetups, LinkedIn & social media.
Prep for the various types of interviews you'll encounter: phone, video conference, or in person.
Efficiently organize and prioritize the jobs you've applied to.
Increase your number of callbacks, interviews & job offers.
Craft results-driven check-ins and follow-ups with your potential employers.
Strategically apply to jobs to maximize your salary demands during negotiation.
Prepare for the first week at work.
And much more.
How I landed my first web developer job
I'm a completely self-taught software developer. Although I have various college degrees including a Bachelor's in a STEM field, I'd never done any serious coding. That all changed in 2014 when I discovered a free coding class online.
Seeing my "hello world" program displayed on the screen was neat and all, but at the time I still wasn't completely feeling it. It wasn't until around 2017 when I really started going all-in.
I had enrolled in a few Udemy courses.
Started offering more coding-based services at my freelance business.
I built some cool projects and stuck them in my portfolio. Things were really starting to look good around late 2017, which was when I started applying to dev jobs.
In my first wave I probably applied to around 40 jobs.
Guess what happened? Not much! Lots of crickets. I did have a few phone and video interviews, but they all came back with the same response in the end: "We went with another candidate."
It was clear my strategy wasn't working, so I re-engineered my entire application process.
I also revamped my application materials so I would POP as a candidate. From sprucing up my GitHub page and portfolio projects to customizing my resumes and cover letters, I retooled, revamped, and reorganized. Guess what happened after I did that? Yep, I started getting callbacks, interviews, and even job offers.
Even though I was a "code newbie," the lowest on the developer totem pole when it comes to employability, hiring managers wanted to employ me. It was an awesome feeling.
It shocked me even more because once you start reading requirements for these job listings, it's like every company wants to hire a developer with 20 years professional experience…Who's 25 years old and makes a mean cup of coffee. Expert knowledge of sprockets and wires preferred!
My first role was at a data company filling a senior role no less. And it was all because I was able to convince the owner and senior developer that I was worth the investment.
Essentially, your application materials are marketing materials. Yes, you absolutely need to know how to code, but if you can't convince your employers you're worth hiring, it doesn't matter that you actually build a framework cooler than React.
But what if I'm not ready for a web developer job?
Let's say you're hungry for a web developer job, but you don't know how to code yet. I have good news and bad news.
Bad news: learning how to code is tough. Whether you choose to learn programming in college, at a bootcamp, or completely on your own, there is no such thing as an easy learning path.
Good news: Finding the information has never been easier. There are dozens of major learning platforms. (Check out the video I made reviewing over a dozen them!) Whether you want to learn frontend, backend or full-stack there is a platform for nearly every learning style.
For example, if you're a fan of text + interactive coding environments, Educative.io offers a front-end developer track (review here). There are also many video-based options like Treehouse, Udemy, and even freeCodeCamp's YouTube channel.
If you don't know what you want to specialize in, that's OK too. Check out the web developer roadmap on GitHub where you can visually explore your options.
If not now…When?
If you're like other new developers, you've probably thought a lot about getting a job in this field. Don't put off pursuing your dream of working as a web developer! It can happen, it will happen, and the sooner you take action the sooner you can have a foot inside the industry. People make it happen every day, and there's no reason why YOU can't make it happen too.
Summary
If you want to get a web developer job it takes dedication and persistence. The truth is, most companies you apply to aren't going to get back to you, even if you are the ideal candidate in your mind. It sucks, but the good news is there is an entry level dev job out there waiting for you. Of course, you don't have to enroll in my course to snag a dev job, but the odds are pretty good that it'll fast track you to the interview table compared to just winging it on your own.
As a code newbie who cut through the interview jungles, I know how stressful the interview process is. How to Get a Job in Web Development on RealToughCandy.io is essentially my beginner's guide to navigating through the wild world of the software industry. Code on and prosper!
Code Newbie FAQ:
How do I get a web developer job?

The first step is to learn the core of web development: HTML, CSS, and JavaScript. After that, decide on whether you want to learn front-end, back-end, or full-stack.

Start building a portfolio as soon as possible and update your resume to reflect your new career path. Review the techniques and methods explained in How to Get a Job in Web Development on RealToughCandy.io. Then, apply, interview, and land the job!

Should I choose frontend, backend or full stack web development?

A lot of it depends on your personality type and what you enjoy: do you like tinkering with designs, visual components and user experiences? Check out frontend. Prefer the mechanics of databases and servers? Backend might be more your speed. Do you love it all? Full stack sounds right up your alley. Check out the Web Developer Roadmap on GitHub to help further guide your research.

Where can I learn web development?

freeCodeCamp, Udemy, Codecademy, Udacity, Treehouse, App Academy Open, The Odin Project…You have dozens of online options available. There are also coding bootcamps (both in-person and online) for those who want an accelerated learning path. If you're looking for free guidance try freeCodeCamp.

If you have only a little money to spare, Udemy coding bootcamps can be an amazing investment (around $10 per course). Other online platforms can vary from video, to text, to text + interactive code editor, and more. For more information, check out the recent livestream by RealToughCandy on YouTube called "Reviewing Every MAJOR CODING PLATFORM reviewed for 2020 || LIVE & UNCENSORED."