This post contains affiliate links. I may receive compensation if you buy something. Read my disclosure for more details.
🚨 SPECIAL ALERT! 🚨

Treehouse just had a major overhaul and they fired 90% of their staff.

On January 5th, 2022, they released this statement.

With this we can only assume there will be no updated content for the foreseeable future. As a result, we can no longer recommend Treehouse as one of the best learning platforms for newbies.

Instead, let us point you to one of our favorite Treehouse alternatives, Zero to Mastery by Andrei Neagoie. Here you can learn about the basics like HTML, CSS and JavaScript. They also have courses on Deno, React, Python, FAANG interviews and much more.

Read our full Zero to Mastery review.
Is Treehouse worth it? If this phrase has been buzzing through your head then read on. Today we're taking a look at what nearly 50 developers think about this popular online coding platform.

TLDR:

The future of Treehouse is unknown. Therefore, we cannot recommend the platform.
Treehouse Coding: A Quick Rundown
Treehouse offers video-based coding courses, consisting of both learning tracks and individual courses. Languages include: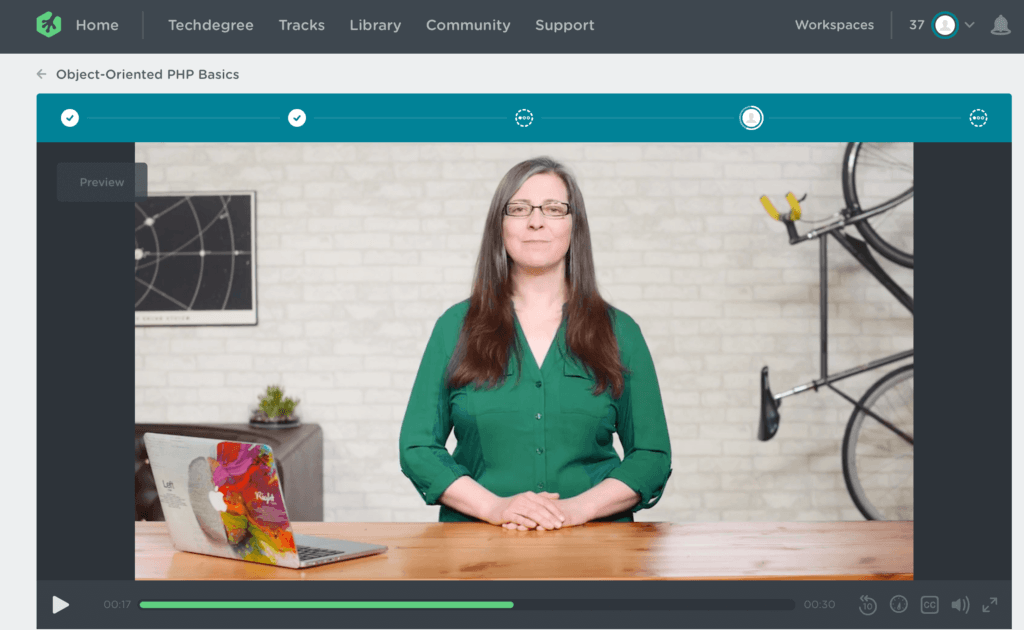 PHP
JavaScript
HTML
CSS
Python
Ruby
Java
Swift (for iOS development)
While learning tracks include:
Web Design
Web Development
Rails Development
PHP Development
iOS Development
Android Development
Starting a Business
Cost
The first seven days are free. Be sure to take advantage of that! After that, there is a three-tiered pricing structure: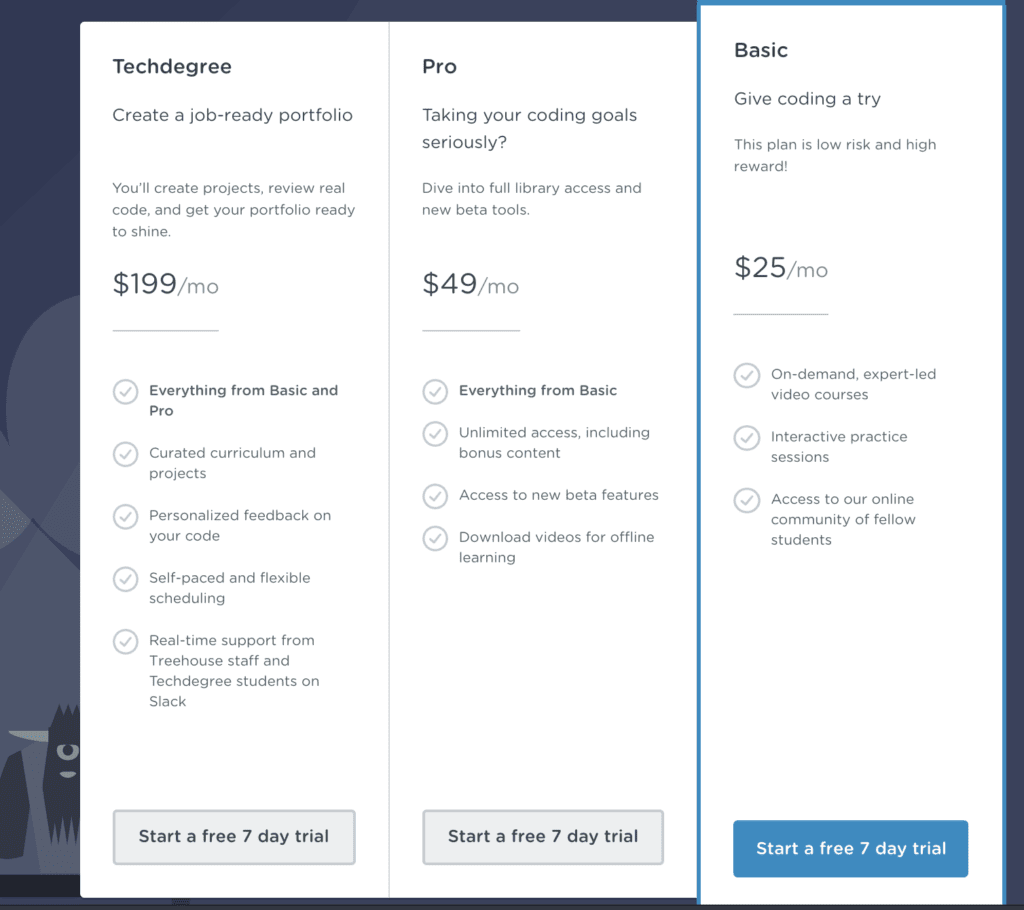 $25/month for Basic (videos, interactive practice sessions, access to Treehouse community resources)
$49 for Pro (Basic + access to beta features, bonus content and downloadable videos)
$199 for Techdegree (Pro + custom curriculum, personalized feedback & realtime support on Slack messaging app )
Is Treehouse worth it: High profile, but effective in real life?
Treehouse (sometimes referred to as Team Treehouse) has gotten some higher-profile love in the past.
For example, YouTuber Chris Sean is not shy about sharing that he learned to code –– and as a result, land a job –– through this platform.
Spanning back further, another YouTuber & developer Ricky Garcia sung its praises.
But can this platform deliver?
I polled 49 developers on what they thought about Treehouse: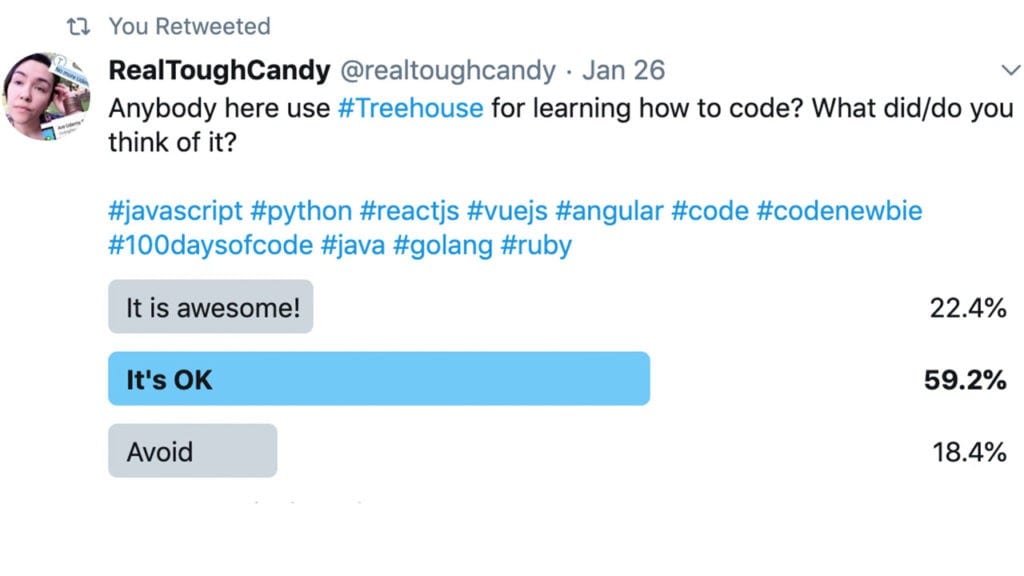 Although one person in the 49 respondents noted that they accidentally hit "Avoid," that would still result in the majority of developers reporting that Treehouse is "OK."
As Johnny Soybean pointed out, Treehouse is based on videos and can be slow for some, especially if you prefer text + interactive coding challenges:
While johncoryk notes that while newbie-friendly, projects available on free platforms exceeded Treehouse's offerings:
Erik was a fan of Treehouse, enrolling in their front-end Techdegree. He also mentioned the high-quality videos:
Shay was another fan of Treehouse who approved of its community and video selection:
But Richard noted that while it was fine in the beginning, Treehouse's style of teaching ultimately just wasn't for him:
The Pros of Treehouse:
Videos have consistently top-notch production values
Newbie friendly
Built-in code editors (called "Workspaces")
Ample challenges & quizzes
The Cons of Treehouse:
Doesn't show you much beyond the basics
Can be slow-going for quick learners
Lack of good projects
Was Treehouse worth it for me? My own experience
I signed up for Treehouse as a code newbie. But as somebody who had started out with Udemy courses I felt like the material inside Colt Steele's coding bootcamp was more comprehensive. The videos on Treehouse were very slick and professional, however I prefer a more personal tone and while clearly talented, a few of the instructors felt distant in that corporate way.
I struggled to find a solid PHP course on Udemy so was excited when they announced their PHP track a few years ago. (See screenshot at the beginning of this article.)
But since I had slogged through a Udemy PHP course and learned the basics, by the time I checked out the Treehouse PHP course it was too little, too late. If I hadn't had any exposure to PHP I think the Treehouse course would have been a good fit. It would also be cool to have some unique projects. This is something the entire platform could benefit from as other respondents have noted.
I would have liked to see the courses organized a little better or have a roadmap to guide newcomers.
Unless you know what you want to study, there really isn't much guidance with that on Treehouse. This is something that affects most online platforms, but since Treehouse is so newbie-friendly it would be a really nice touch. My experience with all this was a few years ago, so some of this may have changed since then.
Summary: Is Treehouse Worth It?
Is Treehouse worth it this year? Yes and no! With a diverse course list, high-quality videos and a multi-tiered subscription program, Treehouse has plenty of features. On the other hand, Treehouse can be limiting with their video pace and lack of good projects.
Always take advantage of the free trials these online coding platforms offer — it can save you hundreds or thousands of dollars if you decide a platform just isn't for you during the trial.
Treehouse didn't make the list of Top 4 coding platforms, but it still has a lot to offer. All in all, Treehouse may be worth it if you're brand new to coding and want to learn the basics.
Up Next: Looking for FAANG interview prep materials? Check out our review: Is AlgoExpert Worth It? [AlgoExpert.io review]